My Top Five Most Embarrassing Live Shows
These are shows I actually paid money to see:
1. Tommy Tutone: Tommy Tutone had long exhausted his 15 minutes of fame from his sole hit "867-5309/Jenny" by the time he took the stage at the Kansas State fair where I saw him in the late '80s. For his encore Tutone did "Jenny" and I'm not making this next part up: In the middle of his solo he kept arching backwards, leaning all the way back with his screaming guitar when he suddenly lost balance and toppled head over heels, his guitar clattering to the ground with screeching feedback. To his credit, he sat up, gave a little laugh, then hopped to his feet and got right back to playing.
2. The Mark Farner Band: Grand Funk Railroad split up more than a decade before I saw Farner on one of his solo tours. He pulled out all the stops, including an encore presentation of "We're An American Band." The show was in some sort of building that doubled as a high school basketball gym... which was basically an enormous echo chamber.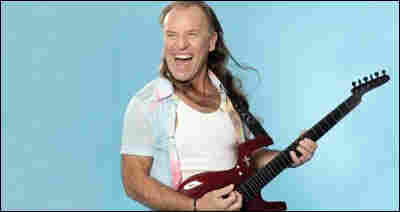 Mark Farner
3. The Clocks: Oh come on, don't tell me you've never heard of The Clocks! They had a pretty big hit with their song "She Looks A Lot Like You." MTV ran a video for it daily, it seemed, in 1983. I read somewhere that they're getting back together. Look out America!
4. Maynard Ferguson: Someone told me once they saw one of Ferguson's shows and that at the intermission, Ferguson disappeared and never returned. The rumor was that he'd gone to a nearby house and got so drunk he couldn't make it back to the stage. In my heart I want to believe that's true. At intermission for the show I saw, some friends of mine and I approached the stage and asked one of the band members if they'd play "Chameleon." "Chameleon," dude! That song rocked! But the guy on stage was dismissive. Barely looking at us he said, "We're not some high school pep band..." Hey, I caught the reference. I was drum major and we played that song all the time! This was when I wasn't performing Lionel Richie songs in show choir.

Maynard Ferguson
5. Iron Butterfly: I was going to mention seeing Blue Oyster Cult open for Rush, then I remembered the Iron Butterfly show. I don't even know what to say about this one it was so utterly forgettable. I do remember they did what felt like a 40-minute version of "In-A-Gadda-Da-Vida." Maybe that was the whole show.
Much to my surprise, none of the other producers here at NPR Music could come up with their own list of similar shows. How about you?