My Top Five Most Embarrassing Live Shows
These are shows I actually paid money to see:
1. Tommy Tutone: Tommy Tutone had long exhausted his 15 minutes of fame from his sole hit "867-5309/Jenny" by the time he took the stage at the Kansas State fair where I saw him in the late '80s. For his encore Tutone did "Jenny" and I'm not making this next part up: In the middle of his solo he kept arching backwards, leaning all the way back with his screaming guitar when he suddenly lost balance and toppled head over heels, his guitar clattering to the ground with screeching feedback. To his credit, he sat up, gave a little laugh, then hopped to his feet and got right back to playing.
2. The Mark Farner Band: Grand Funk Railroad split up more than a decade before I saw Farner on one of his solo tours. He pulled out all the stops, including an encore presentation of "We're An American Band." The show was in some sort of building that doubled as a high school basketball gym... which was basically an enormous echo chamber.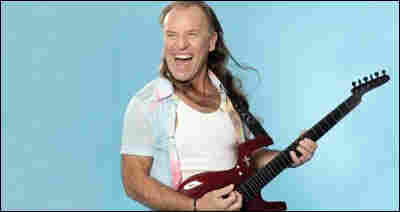 Mark Farner
3. The Clocks: Oh come on, don't tell me you've never heard of The Clocks! They had a pretty big hit with their song "She Looks A Lot Like You." MTV ran a video for it daily, it seemed, in 1983. I read somewhere that they're getting back together. Look out America!
4. Maynard Ferguson: Someone told me once they saw one of Ferguson's shows and that at the intermission, Ferguson disappeared and never returned. The rumor was that he'd gone to a nearby house and got so drunk he couldn't make it back to the stage. In my heart I want to believe that's true. At intermission for the show I saw, some friends of mine and I approached the stage and asked one of the band members if they'd play "Chameleon." "Chameleon," dude! That song rocked! But the guy on stage was dismissive. Barely looking at us he said, "We're not some high school pep band..." Hey, I caught the reference. I was drum major and we played that song all the time! This was when I wasn't performing Lionel Richie songs in show choir.

Maynard Ferguson
5. Iron Butterfly: I was going to mention seeing Blue Oyster Cult open for Rush, then I remembered the Iron Butterfly show. I don't even know what to say about this one it was so utterly forgettable. I do remember they did what felt like a 40-minute version of "In-A-Gadda-Da-Vida." Maybe that was the whole show.
Much to my surprise, none of the other producers here at NPR Music could come up with their own list of similar shows. How about you?
I paid money to see Culture Club on a reunion tour several years ago, and The Monkees playing a pre-game concert before a San Francisco Giants baseball game in the late 90s. I will vigorously defend both, though.
Oh, and I should mention that the Monkees show was sans Mike Nesmith. That does make it somewhat more embarrassing, I suppose.
Hmmmm....I'll try to think of this on the fly. What comes to mind first is
1. Loverboy-Workin for the Weekend
2. Huey Lewis & the News--might have been the same show with Loverboy
3. Quarterflash...but only because they were opening for Elton John around 1982.
4. 38 Special...actually they were pretty good or maybe I was drunk
5. Eddie Money...campus entertainment, in college you will go see anything.
Hah, I love your list, and I bet the reason no one else could come up with their own is you're the only one brave enough to own up to yours!
One of my lowest points was at Bumbershoot 2006, when the girl I went with dragged me to see Yellowcard perform. It was the trade-off for me dragging her to see all the bands I wanted to, but if you ask me, her life was enriched by seeing the likes of Cloud Cult, Laura Veirs, New Pornographers, Spoon...etc., etc. My life, on the other hand, was forever shamed.
Mine list consists of one and only one entry: Garth Brooks. However, I was eight and was dragged by my family (I had no idea what I was getting myself into).
My first concert was MILLI VANILLI and YOUNG MC!
I win!
Maynard Ferguson. I didn't pay to see him, it was a free concert in 2003. He played sparingly, you could tell he wasn't in the best health. His band was great. They closed the show with a medley of his hits. It was time for the money shot. The long high screech which made hime famous. He went for it... and missed it. I bought a MF tee shirt.
The Alice in Chains reunion. I've always loved the band, and never got the chance to see them with Layne Staley. But without Layne, it was a disappointing show to say the least. I guess you never can go home again, but you can market the hell out of it.
Local bands probably shouldn't be held to the same standard as national touring acts in the "bad performance" category, but the worst live performance I ever saw was a local pop-punk band called "Ali with an I" (I may be misspelling that). They were opening (I believe) for the Mr. T Experience and recording a live DVD of their performance, so they were employing all the stylized, egregious "rock poses" and moves that they could think of. At one point, the guitarist hopped up on his amp so that he could jump down and deliver a power chord. But as he jumped off the amp, he became unplugged, so his delivery was ultimately acoustic and silent. The other guitarist started saying "Wait for it..." as the first tried to figure out what went wrong. The crowd started heckling the band. Someone shouted "Now your band is RUINED!" and the rest of the audience laughed.
This actually makes me think of something else: what happens when the audience turns on the band? I went to a party once where the host had hired a country-western band to play. It was supposed to be HUGE. A lot of hype. But everyone in attendance hated the music so much they'd come, stay for maybe three minutes and leave. So the band was left on this little stage looking horribly dejected, sort of half-playing, to an almost empty room. Of course, I stayed to watch the train wreck... though I'm sure worse has happened to bands. - rh
I caught Silversun Pickups when they opened for Voxtrot and Elefant a couple years back. The Pickups and Voxtrot (had never heard of them at the time) were both great, but the headliners bombed. And the vocalist was wearing pants that were about 10 sizes too tight, which was a little offputting for us who were up near the stage.
Ringo Starr and Superfriends.
Bryant: I, too, was suckered into a Garth Brooks abomination by a friend when I was young.
Loverboy was my first live concert, but I am most embarassed about once paying to see the Dave Matthews Band.
@Katie: hah, nice to know I wasn't the only one!
easy. in 2000, i went to an 80s flashback concert with wang chung, a flock of seagulls, missing persons and gene loves jezebel. where to begin?? first off, a flock of seagulls was no longer sporting the flock of seagulls hair, which brought my world crashing down. second, they played "i ran" not once, but twice. albeit, the second time they played it as if a seattle grunge band wrote it. let me tell you, nirvana, it wasn't.
Robin, when we talked about embarrassing concerts, I forgot to mention that I saw Gloria Estefan... as an adult.
A friends of my parents' was doing the lights & sounds for the show, and gave my mother four tickets. Now my mother knows my tastes aren't quite Latin-pop/Adult Contemporary, but I think it was just a ploy to get her sons to come home to visit from college.
My brother and I suffered through 3 songs and promptly left for the lobby. Mothers will do anything to get their sons home.
Like Dave's post before, I think it might be Huey Lewis & the News. Oddly enough, opening for him was Stevie Ray Vaughn!
The most embarrassing show I ALMOST went to see was Rick Springfield. At the time I was so upset...
A Band called Mysteries Of Life in the mid nineties. They played at the University of Wisconsin.
1. Filter - Even worse, it was my first concert ever.
2. Tantric - It was free, but that doesn't help.
3. Fuel - It was at a music festival, but I listened for half their set so it counts.
4. David Allen Coe - At a frat party
5. Rehab - At a frat party
6. Drowning Pool with support from STEREOMUD!
7. The Musical Box - This is a Peter Gabrial era Genesis tribute band. I was 21 and the youngest person there by at least 20 years. But hey, they rocked.
(Dis)Honorable Mention. In between Holy #$%* and Super Furry Animals the Fiery Furnaces played. They played "Clear Signal to Cairo" for what seemed like eight hours and all I was thinking was, "Are they making fun of me?".
I think if I see a band I liked at the and enjoyed the concert, then I feel no shame. Of course, my first concert was Pat Benatar (who I still think rocks) and my second was the Beach Boys with actual Wilson Bros. The worst was Sonny & Cher, lip-synching (my mother bought the tickets, horrible experience on many levels).
Oh man, I payed to see BOC but I wouln't consider seeing them live an embarrassment.
I actually snuck out for a night when I was 14, and went to my first concert - The Go-Gos with Flock of Seagulls opening. (Paid the $14 ticket price with coins, too!)
Also paid for a ticket to see Aerosmith in the "Lean Years" without Joe Perry. I wasn't impressed!
You know, I saw a lot of concerts from the 70s onwards and I can't say I went to any really bad ones. Some performances were better than others, but I was pretty picky about which ones I went to.
But on a side note: the original article mentions Tommy Tutone. Even though the band was famous of the Jenny song, the song Cheap Date on the same album has haunted me for years. I think it is a forgotten gem.
I actually sat through a set by The Little River Band at Belmont Racetrack many years ago. Happy anniversary, baby.
I really dig Ben Harper, and I've seen him several times, but seeing a show in which Jack Johnson opened up made me nearly vomit (I swear it had nothing to do with mescaline and/or tequila). Dude is terrible. TERRIBLE.
Thanks to my stepmom's concert promoter sister, I saw my first ever stadium show at the age of nine: Andy Gibb. At the time I would have given my left eye to see Kiss and the thought of seeing Teen Beat fodder like A.G. made my stomach churn. My seven year old brother found the show so boring, from the third row no less, that he managed to fall asleep. If any of my third grade classmates had know that I saw Andy in concert I would have been the laughing stock of the class (at least among my male friends). Later I saw Journey, 8th grade and again comped tickets, in the despearate hope that my friend Matt and I might hook up with the ladies. Not only did we not hook up, we also had to suffer through Journey and opening act Schon& Hammer (a mullet headed German keyboardist who rocked the keytar). Painful.
Mine would have to be seeing Jack Jones (of The Love Boat theme fame) at Disney/Epcot. My sister-in-law worked there & used to manage the talent that would come through. Somehow, she made it sound exotic with her French accent & I didn't fully realize what I was getting into until I was already there.
My first concert was New Kids On The Block. I was in 3rd grade. I have also seen Meatloaf, twice. Once I got free tickets and once Cyndi Lauper opened for him.
A nearly depleted "Starship" at an Arizona Indian casino about 8 years ago. It was free!
Billy Ray Cyrus, at the height of his er... powers. Sure, I was only eight years old and my mom took me, but looking back it seems that I still should have known better.
In no particular order:
1) Urban Dance Squad - Deeper Shade of Soul anyone?
2) OMC - How Bizarre indeed. The band members were playing pool in the bar before the show.
3) Damien Rice @ DAR - Damien's voice was cracking like a 12 y/o boy's voice the day after puberty starts
4) Depeche Mode - Dave Gahan collapses due to a cocaine-induced MI on stage.
5) Cat Power at the 9:30 Club - Whoever told Chan that she could be a soul singer should have been shot. This set was sloppy and all over the place, and she lacks the range and power to be a true soul singer.
I saw Mayanrd Ferguson many times and he always put on a fabulous show up until 3 weeks before his death. Robin, I noticed you didn't actually discuss any of the music that was played by the band or Maynaerd, just some inane rumor that a frind of yours told you and that fact that they didn' paly a tune you wanted to hear.
1. Big Country.
I saw this band at Irvine Meadows--I think that they may have been opening up for some other mid period new wave band. In any event, they had this horrible hit titled, predictably, "Big Country." There is a special place in Hell for bands that name songs after their band.
In any event, at this show, Big Country opened with "Big Country", did an acoustic version of "Big Country" with a big jam, and closed with "Big Country". Basically, the same exact song three times in the same set.
2. Dave Matthew's Band
I saw this band open for Phish at the Santa Monica Civic auditorium. It was actually painful to watch--most of it was due to the horrible acoustics of the space, but still extended electric violin solos that sound like cats being de-clawed with ice picks just should not ever happen at a rock show.
3. Social Distortion
The boys were headlining a show in Crawford Hall at UCI. During the first three opening acts there was no one there--most of the people were smoking out front. Social D takes the stage, everyone rushes in, the police rush in and stop the show. There was one song sung from the stage the the entire night "cops!"
4. 45 Grave
Fenders ballroom was a very good place to see a show in Long Beach. Someone brought a gun into this show and fired it during one of the opening acts which caused the venue to be cleared and the show never happened.
5. Sly Stone
I think that this was his third come back at the Roxy in LA. Show was supposed to start at like 10:00 PM, at ~1:30 AM, someone yelled "Buddha!", a large flash pot went off, Sly played about 10 notes and left the stage. Show over.
I actually saw Blue Oyster Cult open for Deep Purple last summer. My friend is Ian Gillan's manager so we went onto the side of the stage for Deep Purple's set. At the beginning I had the sense that someone had sneeked in front of me, but it wasn't until I looked straight down that I saw the top of Buck Dharma's head. He's about 5 feet tall which was a bit of a buzzkill...not that I'm a fan, but they're songs just seem so much bigger...
I sat in the front row of a Maynard Ferguson show on my 15th birthday in 1993. (MF and I share May 4.) I went with various members of my high school jazz band (of course) and we all bought shirts AND wore them to school the next day. I marveled at the whole experience.
1. Vanilla Ice w/ Nelson unplugged Wow!!
2.Club MTV tour with Paula Abdul and Tone Loc.
Vanilla Ice opening for MC Hammer.
Please hammer don't hurt em!
in my defense I was 13
You win. -- rh
My first concert ever was at Worlds of Fun in Kansas City in the mid-70's. I joined 12 or 13 other fans in greeting the Hues Corporation, cranking out their timeless hit, "Rock the Boat". I keep waiting for the reunion tour, but I think that Corporation has been dissolved for eternity.
Kansas gets all the best shows. I saw Tommy Tutone at the state fair in Hays, KS. He was opening for... America. -- rh