A Gift From Radiohead
Back in February, All Songs Considered invited Radiohead's Thom Yorke on the show to discuss the music he loved. He was happy to talk about someone else's music, after months of being asked about the record business and the decision he and his band made to release In Rainbows as a pay-what-you-want download. So Thom Yorke played DJ for us, turned me and others on to new music, and talked about creating In Rainbows. We had a good chat, but our meeting was long-distance; he was in Oxford and I was in Washington. We made mention of meeting when the band came to America for its tour.
We knew we wanted to include Radiohead in our live concert series. The best date seemed to be at the Santa Barbara Bowl on the last night of the tour. The band loves the venue, and there are plenty of good vibes and good people. It's gorgeous.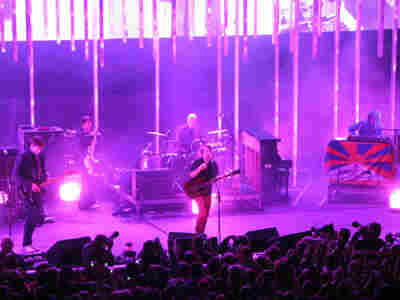 We weren't sure how it'd go, but we were told that, if the band was happy with its performance, we could put the entire concert online. If the band wasn't happy, then we couldn't.
I booked my plane ticket and headed west.
My first impression was that I was awestruck by the beauty of the Santa Barbara Bowl. Built as part of a WPA project in the 1930s, the place is magic and majestic, with unique stone work helping to make for a spectacular setting.
Having seen the show earlier in the tour, there were two people I wanted to talk to. The first was Jim Warren, the sound engineer for the band's live show. We talked about his job, mixing the front of house (the sound you hear when you're at a concert); it's a complicated job made more so by a band that tours with 60 songs in its bag of tricks. Each one of those songs can be sonically tricky.
Then I met Richard Young, the production manager for the tour. When I saw the show in Virginia, I was floored by the lighting, which was all LEDs.
Young said that the driving force behind using LEDs was a desire to "decrease the carbon footprint" of the tour. LEDs are so much more efficient than traditional theatrical lighting. No one had ever done anything quite like this, so they basically had to invent how to make this work and also make it tourable. It is a stunning sight: candy for the eyes and a wonderful complement to the music.
Then it was showtime.
When I think of the best concert I've seen, I always flash back to Pink Floyd in early 1972. Almost two years before the band released what would become Dark Side of the Moon, Pink Floyd performed the entire suite of songs to the amazement of us all. We'd never heard any of the songs (then titled Eclipse: A Piece for Assorted Lunatics), and with its quadrophonic sound, it still was the most massive musical surprise I've experienced.
Radiohead's show at the Santa Barbara Bowl came as close for musicianship and creativity as any show I've seen in 37 years. I've seen a lot of shows.
These guys write great songs, and sometimes you can even sing along to them, but what they do better than any band is create a sonic adventure — a soundscape which, at its best, stretches time and allows the mind to wander and rejuvenate. I think of it as resetting the synapses. Creativity breeds creativity. When the music was over, I felt unboxed and changed and pretty darn happy. Drugs are overrated; music is underrated.
There was a small after-party. My guide for the evening was Laura Eldeiry of the band's PR firm, Nasty Little Man. Laura told me to wait around for Thom; that he'd come around and we'd have that face-to-face we'd talked about back in February. More importantly, I was waiting for a verdict from the band. Were they happy enough with their performance to let us webcast it?
I spent my time talking with a 14-year-old guitarist appropriately named Marshall. He was a lucky kid with a mom familiar with the record business and a father who designs effects pedals; it turns out that the dad designed a pedal that Radiohead uses. It is also a delay pedal that I own, the DL4, so we had a lot to talk about.
Then came the best news: Not only was the band happy, but Laura had the CDs from the evening's performance. We can put the entire show from Santa Barbara on the NPR Music site. Come to All Songs Considered Monday, Sept. 8 at noon.
Then Thom Yorke came by.
I've never understood how someone can perform and create for more than two hours and come down to earth enough to carry on a conversation. I could never do it. Thom said he was blasted (tired, that is), but he looked happy and satisfied. We talked a bit of politics; Barack Obama's speech at the Democratic Nation Convention took place in tandem with the Radiohead show.
I told him how unusual I thought it was to have a thinker like Barack Obama running for president; Yorke talked about corruption and lobbying in British politics, and said to be careful about pinning all of your hopes on one person.
On the ride home, I fired up the laptop and heard Barack Obama's speech.
"Today has been the most perfect day I have ever seen."
— "Videotape" by Thom Yorke
Synapses reset.
Time for new ideas.