News For The Fall, Now: Zune HD Media Player Coming
Microsoft's next swing at Apple's iPod dynasty comes this fall in the shape of the Zune HD. It's targeted directly at the iPod touch, Apple's iPhone without the phone.
The company says that their latest portable media player sports a wide-format OLED touchscreen, Wi-Fi, a Web browser, HD radio reception (a format your local public radio station may broadcast in) and support for HD video.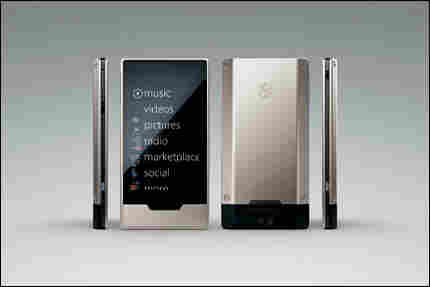 Pricing and the exact release date have not been announced.
For those of you who may never have heard of Microsoft's Zune, the company describes it as "a line of portable digital media players, elegant software, the Zune Marketplace online store, Zune Pass music subscription service, and the Zune Social online music community."
The Zune HD will run on the Windows CE operating system and use a modified version of the Internet Explorer Web browser, according to Ina Fried's report at CNET News.
Over at Technologizer, Harry McCracken has seven questions (and answers) about the Zune HD, including: Hey, what about apps?