Could You Be A Sitar Hero?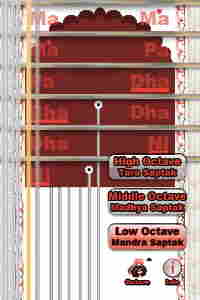 With more than 140,000 apps in Apple's Death Star-like App Store, it's easy to get App Burnout and begin to believe that you've seen it all. Somehow, though, one new app always sneaks through my cynicism filters and seems suddenly indispensable.
For instance: an app for all those times that I needed a sitar, but didn't have the wherewithal to carry such an unwieldy instrument around with me (happens to everyone, right?).
"Pocket Sitar," released today for the iPhone and iPod Touch for 99 cents, features the lovely instrument, along with very brief instructions on how to play, links to videos you can view on the device and three octaves to experiment with.
It was developed with the help of Maestro Aloke Dasgupta. I'm no sitar expert, but the app seems solid, musically. It's very basic; the "How to" element of the app is just a page of instructional text, but the price seems right for the 1.0 version of a musical instrument app.
Now, if you can film yourself playing Norwegian Wood with this app and put it on YouTube, I'll be happy to post a blog entry featuring your musical talents.