Doing Hard Time in Iranian Prison for... Blogging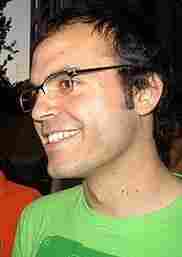 Hossein Derakhshan will spend his 36th birthday in Iran's Evin Prison and possibly 19 more.
His crime: blogging.
Otherwise known by the Iranian government as, "propagating against the regime, propagation in favor of anti-revolutionary groups, insulting sanctities, and implementation and management of obscene web-sites." Paris-based Reporters Without Borders says the jail sentence given by an Iranian court this week is the longest ever imposed on a blogger in Iran.
Derakhshan blogged under the nickname Hoder and was refererred to as "Blogfather," in the Persian language Web world.  Derakhshan was born in Iran, but is a Canadian citizen. He started to blog in Farsi nearly a decade ago and encouraged Iranians to express themselves freely on the Web.  He wrote a step-by-step guide to blogging in Farsi and inspired an online community of Iranians to speak out against the Islamic Republic.
But around 2006, Derakhshan became increasingly nationalistic in his writings, supporting President Mahmoud Ahmedinejad against threats from Washington.  He blogged in support of Iran's right to a nuclear program and vehemently criticized the opposition movement he once championed.  Derakhshan moved back to Iran in 2008, but was arrested shortly after his return.
The arrest was puzzling considering Derakhshan's change of heart.  Allegedly, Derakhshan was promised a safe entry into Iran by the Ministry of Intelligence and National Security, but then he was placed under arrest by the Revolutionary Guard.  Some say Derakhshan is being used as a pawn in an internal battle for control, but because of the secrecy surrounding his case, this cannot be confirmed.
"The fact that he has this complicated story and made enemies out of former friends, surely doesn't help his situation," says Iranian-American journalist and blogger Cyrus Farivar.  Farivar has been reporting on Derakhshan since his arrest in November 2008. "I mean if you look at the case of Maziar Bahari, Roxanna Saberi or more recently Sarah Shourd, these people who have been imprisoned in Iran, you had Secretary Clinton talking about Roxana Saberi, you had Newsweek fighting publicly for Maziar Bahari and people going to bat for these people.  We haven't seen that with Hossein, so far."
Just yesterday, British Conservative Party politician David Lidington, who is a Minister of State at the Foreign and Commonwealth Office, made a YouTube appeal on behalf of Derakhshan.  But, this is a far cry from the pressure Western leaders put on Iran to release freelance journalist, Roxana Saberi or Newsweek's Maziar Bahari.
So far, Lidington's YouTube video has less than 300 views.
"At the end of the day we're talking about words on a screen," says Farivar. "He didn't commit any violent crime, he didn't commit any serious offense.  Anybody who believes in freedom of expression, especially on the Internet should support his case."
Iran's Fars News Agency reported that Derakhshan can appeal the ruling.