Pounds of Paxil, Vitter and the Vixen, and Don't Mess with China
"Morning Meeting" is a recap of our daily editorial meeting. If we had a show today, these are some of the stories you would probably hear.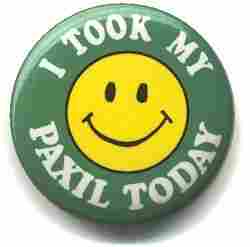 NEWSCAST: In the Red Mosque raid at least 58 people died when Pakistani troops flushed out militants holed up inside a women's religious school, a Nano iPhone announced, fires in the West break records in Utah, hurricane director quits mid-season, 17 people dead and 30 wounded after a suicide bomber blows himself up near a NATO convoy southwest of Kabul, leaked report says Iraqi government has not reached important benchmarks, Louisiana Senator admits to being on DC Madam's call list, CDC says anti-depressants are the most prescribed drugs.
SEGMENTS DU JOUR:
CHINESE OFFICIAL EXECUTED FOR DOING A BAD JOB: Imagine if say, Heckuvajob Brownie worked in Beijing. China's government confirmed the head of its food and drug administration was invited to no longer be part of this world after he was found guilty of taking bribes for approving untested medicines. Some say he may have gotten the better end of the deal considering the conditions in some of the Chinese work camps. China wants to show the world it is serious about correcting the recent spate of food tainting and health scares about things 'Made In China'. So consider this as you take a look at the Five Friendlies, the cutesie Olympic mascots, in about 11 months. Someone may have been eliminated to make sure you have a wondrous Olympic viewing experience. While cab drivers are being forced to learn English, the world's most populous country will get a lot of attention for other things it forces its people to do. Is this how China will continue to react to the world's spotlight?
IT'S HARD OUT THERE FOR A PIM....WEATHERMAN: A local weatherman in New York said this morning that someone just came up to him and started yelling at him about the high temps. Yesterday the director of the National Hurricane Center had to step down when 23 of the center's 49 staff members signed a statement urging federal officials to get Bill Proenza out of here because his work prevented "the effective functioning of the National Hurricane Center." When Max Mayfield retired from the post last year he said it put so much stress on his family and his life. He looked years older than he was. What is it about the job that makes it so hard? Is it one wrong prediction and a local government will spend millions? Is it just an unpredictable science and people won't accept it? Guest: Former center director or retired meteorologist.
IRAQI BENCHMARKS & MICHAEL MOORE V. THE MEDIA: This segment would be a two-fer. First, a look at the AP report that claims a leaked document shows that the Iraqi government will not meet significant benchmarks put forth by the U.S. government. One sticking point of specific interest — the internal Iraqi debate about oil and who gets it. That's buried deep in some of the news copy, something Michael Moore would say is another fault of the mainstream media who want to sell the war and have been woefully ineffective as a source of information about the conflict. He let this loose during a live interview on CNN yesterday after a medical reporter, who is a surgeon, allegedly "fact checked" Moore's new movie, Sicko. Moore said the mainstream media needs to quit lying. If you haven't seen the exchange take a look. We, like so many, would want to talk to Moore and ask him about his PR strategy. Does he have one? Was his response emotional and based on the moment? Or has he decided to just hit back whenever he can — no matter the venue? Or maybe it is his whole plan? Does he believe he is converting anyone or is he providing red meat..or, rather, blue meat for his fans? Is there a right time and a wrong time to get one's message across?
JOURNALISTS AFTER HOURS: Recently two journalists have found themselves at the center of the story, and not in a good way. Telemundo news anchor Mirthala Salinas is/was having a relationship with the mayor of Los Angeles. His wife isn't/wasn't too happy about it and filed for divorce after 20 years. In Chicago, wearing a two piece swim suit, TV reporter Amy Jacobson was video taped — by a rival station no less — in the pool of a man who was the subject of an news/police investigation into the disappearance of his wife. Both women have explanations. Salinas said she told the bosses. Jacobson says she was on the way to take her kids swimming when the 'subject' called and said he wanted to talk about the case. Both are under ethics review. Guest: A journalism ethicist to talk about crossing lines.
HE WENT BACK TO OHIO: The President of the United States is heading to Cleveland, Ohio today to honor a grandmother for her volunteerism. Oh, that and he might say something to the press about what his aides are calling "his vision for the post-surge". Given his 29 percent approval rating, according to a new USA Today poll, maybe he just wants to stop at honoring Gerris Farris for mentoring 5th graders as a part of Experience Corps. Given the AP is reporting that the Iraqi government is nowhere near reaching certain benchmarks, Mr. Bush may face a skeptical crowd while talking about his own frustrations. Or maybe not. Maybe the heartland has a different view than those in the Beltway. We want to talk to the political reporter from the Cleveland Plain Dealer about how the big picture issues for the president are playing in the swing state of Ohio. What's sticking there — the war? Claims of executive privilege? Gas prices? Let's take a non-Beltway look at politics.
SPRINGFIELD? IS READY FOR ITS CLOSEUP: Fourteen different towns called Springfield will find out today which will be chosen to host the premiere of The Simpons Movie. The namesakes for the hometown of Homer, Crusty the Clown, and Milhouse entered a contest and locals created videos to encourage people to vote for their hamlet to host the big event. Guests: The mayors of a few of the Springfields.
VITTER AND THE VIXEN: Louisiana Republican David Vitter admits to having sinned with one of the DC Madam's girls. His number is among the many Deborah Jeane Palfrey released. Frankly, we were stumped about what to do with this one. There were many good ideas ... but ... we weren't sure so ... stay tuned for a post from Luke later today and help us out.
FRIGHT FLIGHTS: Anyone who has been on a plane in the past month knows the horror. Overbooking, late arrivals, lost luggage. Just this past week Luke's flight didn't get into NYC until 3am. My flight took off three hours late. It is predicted this will be a horrible summer for air travel. Why is it so damn hard to get from point A to point B? Are you helpless? Bumping may be legal but did you know you can get cash money if it happens? How much is your luggage worth? We want to talk to a travel expert about five things — not the obvious, but the secret code sharing number language lingo that can help with the hassles.
THE RAMBLE: Stories worth an honorable mention...Dan Patrick leaves ESPN after 18 years, Cloverfield trailer on Apple.com, first snow in Buenos Aires in 89 years, 72 pages of police interviews with
former astronaut Lisa Nowak — the BPP players would read some aloud.