Gangs, Gays and a Charming Mellow Guy with a Guitar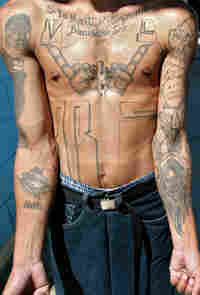 Do you like alliteration? How about rhetorical questions? We've got both, plus the newscast, on today's Bryant Park Project.
— The media are freaking out about MS-13. We talked to gang expert Celeste Fremon of Witness-L.A. for background on MS-13 and what involvement may mean for immigrant teenagers. Is it "The Most Dangerous Gang in America?" Fremon says, "Oh, please."
— Twenty-two Americans died in the aftermath of two big storm systems that beat down the Upper Midwest and Plains. Hurricane Dean is moving into Mexico for the second time. Thirteen people died in the Caribbean as the result of Dean. Officials in China are still trying to reach the 181 men trapped in a flooded coal mine. Luke and Alison check in with Mother Nature.
— Oh, poo. A rich middle aged couple was charged with animal cruelty after 113 cats were rescued from their New Jersey home. Officials found up to six inches of cat dung in the 20 room mansion. In our quest to be everything NPR is and more, we booked not one, but two experts to crack this developing story. We called James LaGrossa, chief of law enforcement for the Bergen County Society for the Prevention of Cruelty to Animals and forensic psychiatrist Steven Pitt. Quiz: Do you know whether an insanity plea can be used in an animal cruelty case?
— Piggy? Ralph? We ask Television Without Pity's Sara Bunting if CBS hit reality gold when they dumped 40 kids between the ages of 8 and 15 in the middle of nowhere New Mexico for a month and let them start their own town. Some parents and their labor attorneys cry foul.
— What is "Gay," Alex? If Merv Griffin was gay, how come it wasn't mentioned in any obituaries? It was mentioned on the website of the Hollywood Reporter, then taken down, then put back up. What's the deal? We ask Merv Griffin biographer David Bender — and he takes us to task.
— Alt-country singer songwriter Josh Ritter brought his guitar with him to the studios of the BPP this morning. He talks with us about growing up in Doug Martsch country and plays two songs, "To the Dogs or Whoever" and "The Temptation of Adam."
— Plus an arm-wrestling arcade game in Japan — called "Arm Spirit", vegetarian friendly ballparks in America, and much more!