Skip to Main Content
BPP Launch? Piece of Cake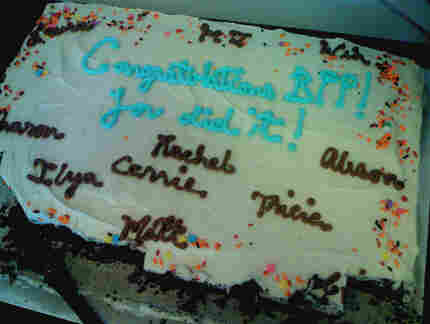 ---
The Bryant Park Project has launched. Our first real show has aired and streamed and earned a place in podcast heaven. The celebratory champagne is gone, and so are the friendly suits from NPR headquarters in Washington, D.C.
All that's left, besides a few bits of scrambled egg, is the cake. We'll let hosts Luke Burbank and Alison Stewart take it.
Luke Burbank's first-day report:
Even though we've done about 400 practice shows, from the very same studio, it somehow felt much more real, scary and exciting.
Just your average day at the office.
Wait, why is the podcast only 46 minutes long? My work and sleep schedule precludes me from being able to get downstairs to the living room to listen to the Sirius between 7 and 9 a.m., and NPR doesn't repeat the show later in the day. I had been looking forward to the podcast, but now I feel kinda cheated.
Great show. Everyone sounded like old pros at this. Seems like a show I'll add to my regular morning listening routine.
Congratulations on the new show. At this very moment you're beating TOTN...at least on my PC:)
I'm really happy this show exists, my day is good deal more enjoyable for it. I just hope it starts existing on one of my local stations soon.
Now I've gotta get me a radio show because it evidently triggers a flood of delicious-looking homemade baked goods.
Stewart, Dan posted earlier the show will only be an hour for the first month. In November they will start doing a second hour. Also, when they are on the air they have to take news and station breaks, so the podcast will only be 45 minutes and the full podcast in November will be 90 minutes. Most NPR shows are only about 45 minutes in podcast form because of that.
wow. good show. i know i must be old because i can't figure out why i didn't hear you on the radio this morning...who did hear you??? and where are you??? lots of good music and food themes work for me...the bad news of the day is available in so many ways...keep it current but special, unique and tasty!!! also, consider that books are also FOOD for thought!
I enjoyed the first show! Good job and congratulations. I too am confused as to why there was only 46 minutes on the podcast, I would love to get the whole show.
I'm 19 years old. I'm younger than your target audience, and yet I'm really concerned about this show. This isn't npr. You don't have sound sedated, but you do have to sound like you know what you're talking about. Celebrity news? That makes me sad. A call-in segment with your husband? I hope to work in public radio, but this is a disturbing trend. Coming from someone who's actually in college, this sounds like college radio.
Tom, Give the show some time before you give up on it. It is a different take on NPR, it is going for a diferent feel. I felt the same way you did when I first heard the podcast. I now "get it". It's not All Things Considered, it's not Morning Edition, it's the BPP. We don't need another ATC or Morning Edition, NPR already does that great. The BPP fills a void. Trust me, you will learn to love it as I have.
A quick request; could you drop a daily stub of a blog for discussion of the day's show?
@Drew: You bet. Here it is, and look for another one tomorrow morning. And thanks for the nudge.
I love, love, love, love this show! Thank you for being on the air, it keeps me awake in the morning during the rather boring parts of my job.