Anyone Seen Peter Bjorn and John?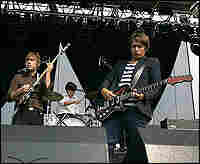 Sounding like some sort of heavenly angel, Peter Moren of the Swedish rock trio Peter Bjorn and John came on our show today.
Apparently the band is touring all over the place. If any of you have seen them live, please hit the comments.
Hey, i really liked this album when i got i last spring. they have a cool sound! i am surprised though that the one band member's wife is not featured as it was her voice on "young folks" that prompted me to buy the album!!
myspace.com/danbrownmusic
Uh oh . . people are beginning to make plugs for their bands in the comments.
It's a slippery slope, BPP . . . a slippery slope . . . be warned. Next thing you know all of Portland will be posting.
I saw Peter Bjorn and John at the Vic in Chicago, sometime in September. It was my first "real" concert, and it was amazing. They played their last song, left the stage while the crowd was roaring for more. Minutes later, three of their roadies come out onto the stage and start playing the intro to "young folks". Then PB & J come back out and play two or three more songs, this was their last show of the tour after all. The last song was basically just a jam session; the Clientele joined in on stage, and a few of the roadies were dancing about. I love music that makes my body want to gyrate, and that was all I did. They are simply amazing.
They performed in Philly at The Fillmore (TLA)last spring and it was fantastic. My friend had just tuned me into them, and seeing them live cemented my appreciation of them.
I see a lot of live music, and I felt that real, essential energy in every song. Peter was a show in and of himself.
I feel lucky to have seen them approaching the crest of this album's success, and it looked like they'd just realized the world was at their fingertips, if even for a fleeting moment! :)
I saw PB&J and the virgin Festival and they were pretty good. Not quite as cool as listening to them in your car or on your headphones, but good nonetheless. The thing that blew me away was the fact that the entire band had slacks and long sleeved shirts on. i believe Peter was even wearing a sports coat!!