Skip to Main Content
Wounded Warrior Barracks Founder Lt. Col. Tim Maxwell on the BPP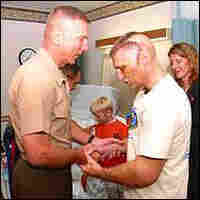 Today we spoke with Lt. Col. Tim Maxwell, a Marine who suffered a traumatic brain injury in Iraq in 2004. After a remarkable recovery, Maxwell went on to found the first Wounded Warriors Barracks, a facility where active-duty Marines can recover together. Maxwell's work has made him one of Esquire Magazine's Best and Brightest 2007.
Here on the BPP, we're not afraid to devote longer chunks of time to stories when we think it's warranted, and this was definitely one of those situations. Lt. Col. Maxwell talked about his own injury and recovery, the first thought most wounded soldiers have when they wake up in the hospital, and why so many of them have trouble being called "heroes."
Read more about Maxwell and his work at his website.
This piece really moved me. Americans have a very very poor understanding of the profile of today's Soldiers and Marines. Too much "Saving Private Ryan" to understand what happens when you send thousands of today's 17-21 year olds overseas to fight an ambiguous war. The discussion of how difficult it can be to train a Marine to ask for help is an incredibly rich metaphor.
As a onetime reservist who never deployed -- which I admit gives me little credibility beyond graduating boot camp -- I've long worried about how poorly the general public understands what a blunt tool a Soldier or Marine is. They are not diplomats and they are very poor and not fighting. They don't see themselves as liberators. They live mission to mission. Whatever end goal the Commander in Chief has for that mission is irrelevant. This is why another missing part of the hero discussion is the notion of awareness. Soldiers and Marines don't see themselves anymore as "heroes" for "liberating" a town than they see themselves as criminals for killing civilians or demolishing cultural icons in the course of achieving strategic objectives. In both cases, sanity demands that you execute your order and defer accountability -- good or bad -- to your unit and commander. To take credit for the good is to take responsibility for the bad -- and there's always bad. This is also why troops will unquestioning execute what seem to us like abhorrent missions and orders. Theirs is not to reason why.
Airing a piece that sheds light into how difficult it can be to bring a warrior mindset into a non combat challenge such a medical recovery is a fantastic example of the broader issue. There is no romance in war -- at least not for front line troops. Just kids focused on killing because that's what they've been trained to do and it's the one thing they all have in common. And when the mission is about life instead of death, the training works against the individual, the family and even the community. I can't imagine that anyone who truly understood the warrior mindset would allow the long term sacrifices our nation is making for this war.
my father was a major in the army in ww2, landed with the marines on iwo jima and survived the beachhead and the foxholes when others didn't...we were not great friends, but his experience must have been awful and needless to say, we had extremely different views about vietnam...it is very painful to watch the current insanity in iraq and see the daily lists of dead men and women...and see broken bodies and minds have to learn anew how to cope and live again. it is no accident that romantic war movies ended with ww2...now, we must develop mindsets that fully understand the folly of fighting wars just as we did in 1942, 1955, 1966...how sadly odd that in the last throws of this administration it should decide to deploy diplomacy...we've been a pawn in their game but maybe the times they are a changin...
I've worked with LtCol. Tim Maxwell for the last two years with the wounded Marines at Camp Lejeune. He is truely an amazing person and a role model, whether he will admit it or not. Keep up the good work boss. they love you over there.