Skip to Main Content
Friendly Scientist Identifies NPR's Pet Bat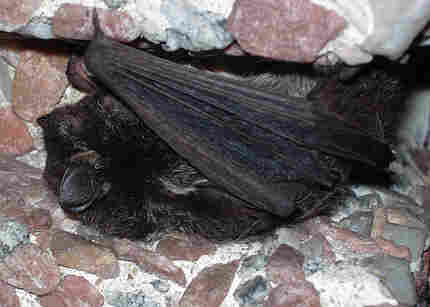 Turns out I've found no ordinary brick bat.
My colleagues Vikki Valentine and Jessica Goldstein at the NPR Science Desk passed along photos of the bat nestled in a crevice here in Washington, D.C., to bat expert Hill Henry (not a typo, I swear). Hill, a biologist with the Tennessee Valley Authority, writes:
"Not a big brown, I'll go with one of my favorites, the silver-haired bat. The light colored (pink) patch of skin on an otherwise black ear is diagnostic, in addition to silver hair on the back and hair-covered patagium."
(That's the double-sided skin that makes up bats' wings)
We've got an audio interview with Hill on our showpage, plus more of his e-mail and another photo from Andrew Prince after the jump.
Hill continues, "It's hard to see much of the silver hair in the photos, but there are some."
He says we found "a GREAT bat, few folks outside of the bat biologist arena see these guys. I have only captured my specimens in the Cherokee National Forest, in the Hiwassee Watershed."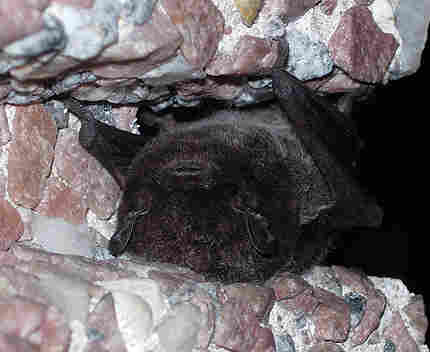 I admit, I had no idea people were so passionate about bats — especially in a positive sense! I ran into some folks on the sidewalk who like the bat a lot. But then I noticed they had on uniforms from Madame Tussaud's Wax Museum, and realized maybe you can't take them as a standard sample of the populace.
Still, it's funny that he/she's getting so many fans by basically sleeping in public.
Mr. Chappell, you should talk bats here in Austin. People are very passionate here about them. We have one of the largest urban populations living under a bridge downtown. We line up at dusk to watch them exit for the evening. Maybe Mr. Fuzz there would like to visit a big group of cousins? Our bats are Mexican Freetails and they go to Mexico in the winter.
For more info (and accurate - as opposed to mine)
http://www.batcon.org/home/index.asp?idPage=122
Take care,
A very lovely (and necessary) creature to be sure; thank goodness she (i think i heard that right?) is being cared for in a better place by a good person with meal worms galore. It only takes a minute to be kind to another, even if they don't look or think like us!
What to name a bat? Ariel of course!
The ONLY name possible is Stellaluna, after the beloved children's book about a baby bat who loses her mother. The author is Janell Cannon.
Oh my goodness, this looks just like the bat who was hibernating on the building in downtown Seattle where I worked, right outside my office window. The tiny creature arrived right on cue--the Fri. before Halloween--and immediately became the star of our office. I felt so chosen and protective, that he found his resting spot outside MY window! I know it sounds silly. We had a warm spell a few weeks later, and he disappeared. I never found out what kind he was, but he looked like this one and had the silver hair on his back. I'm so glad you did this story, thank you!
I'd name the bat: Casey. And, of course, his email address should be
casey@bat.com
For this bat, I like the name Sheila.
No, no, no. I think the name Jennifer is better!
I suggest that the bat's name should be Shade from the book "Silverwing."
heh a silver hair...yer lucky, they are one of the several species i would like to hold,
i hope he grows up healthy, cuz bats with that particular fur color are not as common as one would think^_^