Moby's BPP Playlist and Commentary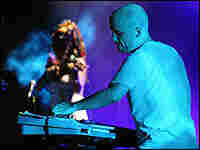 On today's show, recording artist Moby was the BPP's first ever guest DJ! So what does that mean? It means every song you heard, besides show and segment theme music, was hand-picked by Moby for our show. When he was in our studios for an interview the other day, he took the time to discuss some of the songs he picked, and to explain his obsession with songs that conjure eras he didn't experience.
So click the listen link above to hear Moby's playlist commentary. It's chock full of stories, insights, song clips and a sneak preview of one song off his new album "Last Night," which comes out in March.
And in case you missed some of it, here's Moby's entire BPP playlist, taken straight from his iTunes, in the order he gave them to us:
"Hyenas" - Moby
"Incense and Peppermint" - Strawberry Alarm Clock
"Hurdy Gurdy Man" - Donovan
"Led Zeppelin" - Going to California
"Live for Tomorrow" - Moby
"Only the Lonely (Know the Way I Feel)" - Roy Orbison
"Always Crashing in the Same Car" - David Bowie
"Convoy" - C.W. McCall
"Sweet Apocalypse" - Moby
"Memories Can't Wait" - Talking Heads
"Sister Europe" - The Psychedelic Furs
"Satellite of Love" - Lou Reed
"Ooh Yeah" - Moby
"Just A Little Lovin' " - Dusty Springfield
"Falling" - Julee Cruise
"Boom Boom" - John Lee Hooker
"Europa and the Pirate Twins" - Thomas Dolby
"Trash" - The New York Dolls
"Boogie Chillun' " - John Lee Hooker
Asides from Moby's own tracks, there's no other representative of house/rave music. That's lame.
Moby mentions a lot in interviews he likes songs about or that remind him of NY.
http://www.discogs.com/release/198587
He compiled a mix-album called "New York City Heroes" back in Nov 2003 which is fairly awesome. Here's 2 of the tracks he chose to put on it:
Black Riot - A Day In The Life
http://youtube.com/watch?v=exQDRXnQiB4
Suicide - Ghost Rider
http://youtube.com/watch?v=7WqOMPakGCg
I enjoyed his older works. But like with Hotel, I'm not really amazed with the new studio album. Overtime Moby's become too pop. Not sell out per se, because he's obviously doing what he wants to do. But too mainstream, too fimiliar, too commercial too what you'd expect when you turn on the radio, etc etc.
Remember Se??or Moby's House of Music? Good show.