Too Much Stress at Sundance. Whoa.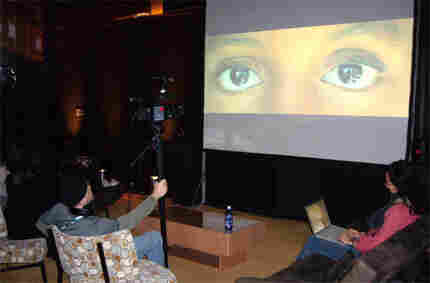 The Cause Collective, a group of multimedia artists, got tapped for the Sundance Film Festival's New Frontier division. The program displays art at the intersection of film and just about every other kind of creative expression. The Cause Collective is showing a video mosaic called Along the Way. After a rough start, Jessica Ingram says they finally got through the worst of it.
Special to the BPP from Jessica Ingram of the Cause Collective:
OK, Laura Conaway wasn't kidding in the blog she wrote for us — which we couldn't write because we were maxed out trying to get our piece ready for the New Frontier Opening. After we stayed up ALL night Wednesday, we finally took a nap around 9 a.m. while our piece rendered for an hour. I woke up to Ryan Alexiev screaming three floors below, "Let's go, Oakland!" — which is what one of the people in our video portraits screams.
I flew out of bed, finally knowing that we were going to be OK at that point — the piece must have rendered correctly. Major relief was flowing through the condo. We ran out of the house, Hank Willis Thomas dropped us off near the venue, and Ryan, Will and I literally ran to the site, only to play our piece and it not work. Have no fear — we eventually figured it out — but not before we almost all cried and had anxiety attacks. I am not overexaggerating here. At one point, Ryan looked at me and he was so panicked he had tears in his eyes ... it was too much. If he had cried, I would have lost it.
A few of the venue organizers were putting some serious pressure on us, and rightly so — they literally were holding the press outside past the entry time while everyone waited for our piece to work. I'm not sure I can truly describe what we were faced with — invited to Sundance only to have our piece not play — this cannot be happening! But we truly thought it was. My heart was pounding out of my chest ... Deep breath.
Once the piece finally played correctly, we breathed a HUGE Cause Collective sigh of relief. It took a while for us to settle down and stop sweating — most of the day actually. Ryan never took his coat off because he had sweat through his sweatshirt. The press came in and we were introduced along with the other New Frontier artists to the press and guests by Shari Frilot, the senior programmer of the New Frontier on Main section. We were interviewed for the Sundance site, met with other artists, guests, and eventually met some board members. It felt a little like we were famous —- bright lights and all that. How wonderful really, to be photographed and interviewed with bloodshot eyes and jumbled thoughts. Again, an all-nighter is maybe not the best way to start the Festival, but I really think it's still sinking in that we're here. It's super exciting.
Robert Redford came by our piece — but of course at that point, we had JUST walked away to get a drink. What luck! We had been at our piece all day to meet people, get feedback, and of course schmooze, and then Ryan and I decided it was finally time for a celebratory beer. And in that space of two minutes, Henry Brubaker, Bob Woodward, my mom's biggest crush, comes and looks at our piece by himself. My mom is seriously in love with Redford and I missed meeting him and kidnapping him to take him to her in Tennessee because I went to the bar. I can never tell her, but I'll do my best to kidnap him later.
We left the New Frontier Lounge around 5 p.m. and came home to finally sleep for a couple of hours. Hallelujah! I slept on the couch in front of the fire-very nice, and then Ryan Alexiev and I went to the opening night part for the Festival at Legacy Lodge...we saw some stars and are sad to say we don't know their names. Home now, watching a competitive game of scrabble between Hank, Minette, and Will. I'm ready to pass out and start again tomorrow. Bayete Ross Smith and Jorge Sanchez are arriving. We'll hang out with our piece and then the public premier of the New Frontier section is in the afternoon, followed by the PBS party at night. We'll keep you posted. We're starting to recover from our panic and we're getting super excited to be here.
And of course...we will deliver some star-sightings...
Special to the BPP from Jessica Ingram of the Cause Collective.