Skip to Main Content
What Killed Heath Ledger? The 'New York Post' Knows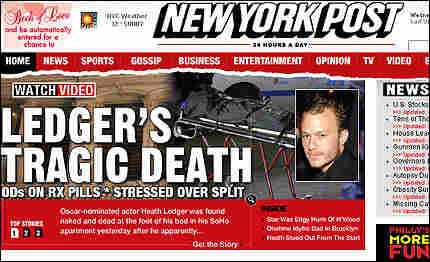 There's a lot of speculation about what actually killed actor Heath Ledger, who was found dead yesterday. Until the autopsy results are in, nobody knows for sure — except the New York Post. There it is right on the cover, "Heath Ledger ODs on Pills." They go even further in an online sub-head, adding a motive: "ODs on Rx Pills. Stressed Over Split."
In the actual story they back off a bit, saying Ledger "apparently" overdosed.

But the headline came from the most respected name in news! It must be true!
Geez..tabloids never know when to not a cross a line eh.
Since when is it easier to run a correction than to actually find out the real truth. I used to work in the media, now I cannot stand it. I think back to my Media Ethics days and realize my two professors would scoff.