Skip to Main Content
Anyone Up for the Paris Hilton Movie?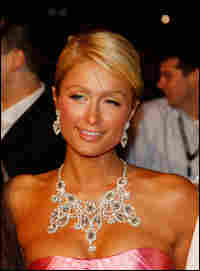 Our regular movie critic, Daniel Holloway, sees ooo-goodles of films every year. Good, bad, horrifying, objectionable — whatever. But Holloway says he just flat doesn't want to see Paris Hilton's new flick, The Hottie and The Nottie. Holloway jokes that the very idea of it makes him feel "so dirty" — and not in a good way, either.
We're good with that, but we'd still like to know whether the Paris Hilton movie is any good. From someone who's seen it. Volunteer critics, hit the comments with your reviews, please.
Yeah, I LOVE B films, I see all kinds of bad acting, stupendous dialog and just all around bargain basement film making.
But this is one I cannot nor will not go see. ever.
I just read on slashfilm.com that the movie earned an estimated $23K this weekend on 111 screens--thats about $207 per theatre (or about 26 tickets).
Paris was just asking for it when she named the movie "The Hottie and the Nottie." I hope the media all over the world picks up the nick name "Nottie" for her. In fact, the very word "Nottie" gives the word "not" a bad reputation...... lol.