Skip to Main Content
BPP Oscar Caption Contest: Heidi Klum and Seal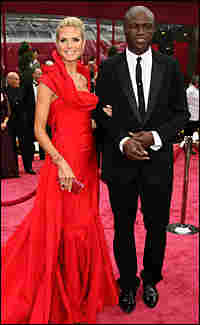 That caption at the left? Not nearly fabulous enough for this twosome. But you can help us out: Write your own caption using the comments link. (Think funny, witty, snarky — but not mean. Not too mean, anyway.) Your caption could end up in our Oscars slideshow.
Michael Kors would say the dress and the carpet are too "matchy-matchy."
and yes, hillary and obama can make it happen too!
Hah, well stated, Tricia.
Heidi looks beautiful, in my opinion.
I really like how Seal pulls off the skinny tie. He is one of a few who can do that.
What do these two have in common?
Not much that is the attraction.
I'd submit something like "Seal of approval," but that's just not funny enough. Oh wait, Laura C. what's the word for doing something by saying you're not doing it?
With all that red next to him, he looks like a clubbed Seal.
What's black, white, and red all over? Seal and Heidi at the 2008 Oscar's!!!!!!!!
If only Heidi had worn navy...
Why did Seal bring a roma tomato to the Oscars?
No Seals were clubbed during the making of the Oscars.
i thought we were pretty enough you would't notice
"...and Seal is wearing Heidi Klum this year."
my first reaction red is happing on the red carpet. However they both look
classy.
Heidi to Seal, "Am I smiling? I can't feel my face anymore...." Reply "I don't know I can see is flashing lights.."
Did you or did you not order a code red tonight Mr. Seal!
Heidi to Seal, "Couldn't just wear the tux, could you."
what do you mean you're here to pick up the dress?
It's not work. It's actually fun!
a representing Soul Train...
Kissed by a rose. Literally.
Oh yes, I am dontaing the dress to be auctioned for charity. Well, no, I didn't actually pay for it myself...
Heidi Klum on the arm of her husband Seal, makes the red carpet her own perfect runway.
And the life-size Oscar goes to Heidi Klum.
Heidi looks lovely in this "project runway" winning gown.
Yet another reason why I want to be a rock star!
And taking their display of mutual affection to a whole new level, the two Democratic Presidential hopefuls arrive at the red carpet together.
We ran out of time to shop, so we just wore our wedding outfits again.
Now vying for "the flashiest," Heidi's gown vs. Seal's head.
And here is my personal bodyguard for this year's "running of the bulls"
Rats! We really did think that with all the attention this dress would get no one would notice Seal forgot to get his pants hemmed. You guys don't miss a thing, do ya?!?
I tried to make my hair as slick as Seal's.
The stunningly beautiful Heidi Klum looks amazing in her "kissed by a Rose" red dress on the arm of her man Seal.
Keep smiling, dear, or I'll pull that tie even tighter.
No that's a kiss from a rose!
Diet Coke may help you win this dress, but ladies we all know there are only 5 women in america who can fit into it!
A couple more pounds and Heidi will achieve her birth weight
This just in... new makeovers for Hilary and Barack put Democrats back in the whitehouse.
Democratic stunt doubles.
Yes, Katherine Heigl and I bought ten yards of this stuff and sewed them over the weekend. Aren't they cool!
Remember us? We used to be famous.