Skip to Main Content
Spitzer Resigns After Prostitution Scandal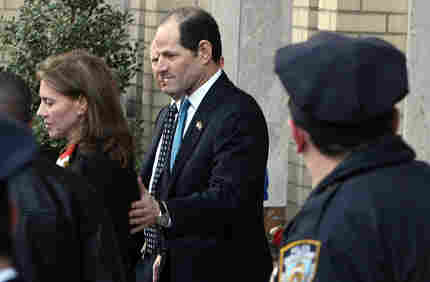 From his opening throat-clearing to the reporter asking if he ever thought it would come to this, Eliot Spitzer's resignation speech passed in a blink. I could have held my breath for the whole thing if I hadn't been typing it up for Twitter. Before the New York governor stepped down, some had said Spitzer was trying to leverage his exit for a deal with the prosecutors naming him as a customer in a prostitution ring.
With regard to that idea, the U.S. Department of Justice sends this message: "In response to press speculation, Michael J. Garcia, the United States Attorney for the Southern District of New York, said: 'There is no agreement between this Office and Governor Eliot Spitzer, relating to his resignation or any other matter.' "
The change of office is slated for March 17, at the request of Lt. Gov. David Paterson. Paterson, who's legally blind, will become the first African-American governor of New York.
If so many people believe that his actions were completely out of character then somebody needs to ask how he became involved in the first place. Is his downfall the result of an elaborate plan to achieve just that end?!
Have heard one mental health professional say this was classic manic episode. Fear he just thought he was above the law.
Nancy,
This is completely within Eliot Spitzer's character. He has one moral standard by which prosecutes those he opposes politically and a far lower moral standard by which he prosecutes himself and his political allies.
Take his campaign against crisis pregnancy centers. The then-attorney general targeted non-profit, charitably supported crisis pregnancy centers, accusing one and all of them of deceptive advertising and uncertified medical personnel. He blistered them with subpoenas, requiring them to empty out the file cabinets of all of their marketing and human resources information. When the crisis pregnancy centers went to court to quash this abuse of prosecutorial power, Eliot Spitzer backed down (since he had legal footing to stand in the first place), but not before receiving campaign funding from the abortion industry PAC's.
Meanwhile, an abortion shop by the name of Dr. Emily's Women Health Center advertised itself in the section of the Yellow Pages reserved for those clinics who do NOT perform abortions and who do NOT refer mothers for abortion. Where was Eliot Spitzer? No subpoenas? No accusations of false advertising? Of course not. Since Eliot Spitzer is anti-life, he's not about to go after one of his own.
That the same man who went after pimps and prostitutes for prosecution now gets caught up using the services of pimps and prostitutes just shows you that, for Eliot Spitzer, there's one law that he has to follow, and a different law that the rest of us.
I know Eliot Spitzer never had in Bar Mitzah (not that it would have done any good), but I remember what one certain Jewish rabbi some two thousand years ago called such behavior. He called it hypocrisy. So do I.