What's the Opposite of a Bacon, Egg & Cheese?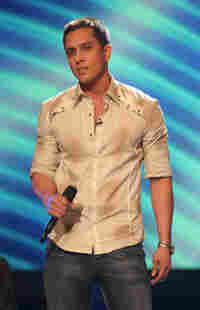 According to the Associated Press, American Idol finalist David Hernandez used to be a stripper.
At a male strip club.
For males.
Gordy Bryan, the manager of the club, said he performed completely nude. "He had the look and the type that people like, so he made pretty good money here," Bryan said.
It's yet another in a long line of American Idol scandals, which brings me to a theory I have and the title of this post.
I think the producers of American Idol knew about the David Hernandez thing all along and were holding the news back until this week because it is 80's week and that gives him the opportunity to sing Tina Turner's brilliant song, Private Dancer! Whatcha think about that!
Everyone in the office thinks I'm crazy. Maybe so. If I'm right, though, I will break my Lenten vow of giving up bacon, egg and cheese sandwiches (BC&E). I mean, if I'm right that'll be pretty amazing. I totally deserve that sandwich.
And if I'm not right? What then? Well, if I get to put the BC&E on the line then it's only fair that I eat the opposite of a BC&E if I turn out to be wrong. The question for you: what's the opposite of a BC&E?