What's the Opposite of a Bacon, Egg & Cheese?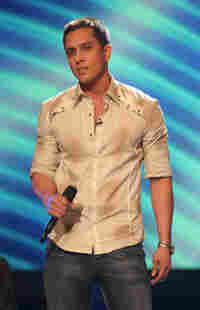 According to the Associated Press, American Idol finalist David Hernandez used to be a stripper.
At a male strip club.
For males.
Gordy Bryan, the manager of the club, said he performed completely nude. "He had the look and the type that people like, so he made pretty good money here," Bryan said.
It's yet another in a long line of American Idol scandals, which brings me to a theory I have and the title of this post.
I think the producers of American Idol knew about the David Hernandez thing all along and were holding the news back until this week because it is 80's week and that gives him the opportunity to sing Tina Turner's brilliant song, Private Dancer! Whatcha think about that!
Everyone in the office thinks I'm crazy. Maybe so. If I'm right, though, I will break my Lenten vow of giving up bacon, egg and cheese sandwiches (BC&E). I mean, if I'm right that'll be pretty amazing. I totally deserve that sandwich.
And if I'm not right? What then? Well, if I get to put the BC&E on the line then it's only fair that I eat the opposite of a BC&E if I turn out to be wrong. The question for you: what's the opposite of a BC&E?
Wouldn't something vegan be the opposite of bacon, egg and cheese sandwiches?
Apparently, a list of tonight's songs has been leaked to the Internet and Private Dancer is not on the list. Which means I may be screwed. Exec Prod. Sharon says I should have to eat some bacon and cheese flavored crickets we have hanging around the office. (Don't ask.) I'm still holding out hope. That list could be wrong!!!!
Bacon and cheese crickets are, in my opinion, EXACTLY the opposite of a bacon, egg, and cheese sandwich. See next blog post shortly.
I think the opposite of a Bacon Egg and Cheese Sandwich is actually a flute solo.
I'm not sure what the opposite of a BEC sandwich is but I think that you should just allow someone to drink YOUR milkshake, Matt. Yeah, not so funny now, eh?
And put some crickets in it.
David Hernandez says that the opposite is actually Meatloaf...ha! And when I tuned in he was singing the lyric "when you touch me like that". You can't make that stuff up.
"At a male strip club.
For males."
What's the problem Matt Martinez? Should he have been a stripper at a straight skin joint, becuase that's SO SO SO much more classy?
Yuck... took of his clothes for males... when he should have been shaking his meat for chicks like a normal upstanding citizen would do.
Grow up, Matt Martinez. Grow up.
Brian -- no offense intended. I was employing an iterative method to produce comedic effect, which didn't work for you. I have no problem with men who take their clothes off for other men. And I don't find it yucky. Just for the record. Thanks.
How about tofurkey jerky (it really does exist!), soy cheese, and scrambled tofu on two fiber crackers? Is that kinda opposite?