Caitlin Checks In: The NPR Vending Machine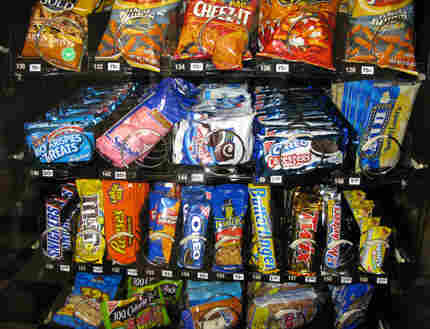 It's usually about this time of the day that I start hankering for a snack, something salty or sweet to fill up the space between meals.
Back in New York, this would have led to a trip to Pret or Le Mirage for a granola bar or a piece of fruit, but here in D.C. it means a trip to the vending machine on the third floor. One of the first things I noticed when I got to NPR headquarters two weeks ago was how unhealthy the food in the vending machines is.
Of course, I know vending-machine food by nature is not nutritious, but this one really goes to the extreme: loads of candy and cakes and even Sno Balls. When is the last time anyone really enjoyed a Sno Ball? What does this say about our office? Are we all a bunch of sweet tooths or are we so busy chasing down stories we'll eat just about anything we have to time to cram in?

What the heck? NPR DC's vending machine items cost less than ours in Omaha! Didn't see that coming. Our vending machines, though, have "healthy options" that have special stickers with a leaf on them. Examples include granola bars and trail mix.
As for the large amount of junk food in the machine, perhaps NPR DC employees don't eat meals? If you don't eat lunch and, say, sub it with a Butterfinger, it's about the same number of calories without all the hassle of sitting down to a meal.
I came to the same conclusion a while back. Dubious nutrition aside, these dainty inedibles are also chronically overpackaged which offends my green sensibilities. You can't look to your corporate masters to help you in this area. They don't care. What I do is keep a few apples and home made granola bars in my desk (http://electricrider.net/recipes/html/breakfast/granolaBars.html) and a stockpile of bars in the freezer at work. The granola bars are full of good stuff like oats and bran and tasty stuff like cranberries and chocolate and are easy enough for an engineer to make. (Yes. That easy.) My wife who generally disdains such food loves these. When I'm feeling particularly expansive I throw in extra chocolate and cherries. Yum.
gotta be sweet tooths because yall can't be that busy chasing down stories when you're putting up stuff like this. srsly, its more likely than you think; consider this: we have junk food AND and ice cream vending machines! right next to each other!! AT A HOSPITAL!!!!!11
When there's an increasing number of people out there having problems obtaining real food (and Im not talking about the plight of restaurateurs, but rather people not getting enough food), because of rising costs of even essential items... its harder for me to justify eating junk like whats in that machine. Peanuts are your only good option, but may as well buy your own jar.
This reminds me that I had ice cream for dinner last night. MMMMMmmmmm ... good!
Michael Pollan is not going to be happy about this.
Man, I want one of each. Right now.
Oh, if only there were a Pret a Manger on the ground floor of my building. Instead we have a cefeteria-type place that calls itself a "deli" (a very liberal use of the word) and offers a selection of mystery meat dishes and heat lamp pizza. Which they charge through the nose for.