Skip to Main Content
BPP Book Club: Part Deux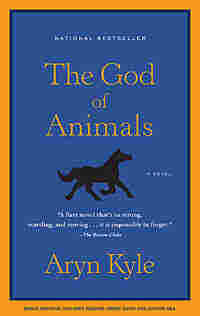 Our book club selection for the month of April is Aryn Kyle's The God of Animals, a coming-of-age story set in the American West. Alice Winston is a 12-year-old girl growing up on a ranch in Desert Valley, Colorado. Book Club leader Sarah Goodyear says the book had her from the first paragraph:
Six months before Polly Cain drowned in the canal, my sister, Nona, ran off and married a cowboy. My father said there was a time when he would have been able to stop her, and I wasn't sure if he meant a time in our lives when she would have listened to him, or a time in history when the Desert Valley Sheriff's Posse would have been allowed to chase after her with torches and drag her back to our house by her yellow hair. My father had been a member of the sheriff's posse since before I was born, and he said that the group was pretty much the same as the Masons, except without the virgin sacrifices. They paid dues, rode their horses in parades, and directed traffic at the rodeo where my sister met her cowboy. Only once in a great while were they called upon for a task of real importance, like clearing a fallen tree from a hunting trail, or pulling a dead girl out of the canal.
It's out in paperback and also available as an audiobook and for your Kindle, if you've got one. Grab a copy and read along with us.
The next book club meeting happens Friday, May 2. Get to reading!
Hey, we're official! The BPP Book Club now has its own e-mail address.
Excellent choice. It is winging it's way to me from Amazon right now. The author is a fellow Coloradan and was interviewed about this book on our home-grown NPR show Colorado Matters: http://www.trumix.com/podshows/1327783
I hope Amazon appreciates your recommendations! I just ordered one book for myself and four for various friends.
I read stupid ammounts of boooks. In fact I think it would be safe to say I consume books. I just finished a book bought at library sale called 'AVA's MAN'. Older book published in 2001 written by Rick Bragg. Highly recommended. Plus I could give you a list if interested in some of the great all time in the past decade if interested.
I am looking for a book: I thought the title was Small Change or Pocket change." The novel is about(three?) female college students who leave Berkeley and travel to Mississippi to work in "Freedom Summer," of 1964. Does anyone know the title and name of the author of this novel?
I'm surprised I'm buying a coming of age story about a girl and horses. But, I downloaded the first chapter for the kindle and found the writing is good. I'm in. Actually, I used to read the series "The Best of the West, New Stories from the West Side of the Missouri" which featured good writing that, incidentally, was set in the rural west. So, maybe I'm not that surprised I'll be reading this along with you all.
@Dave Wiley: Thanks for the link! And glad this selection meets with your approval.
@Mark Wilderman: I liked Ava's Man, too, although Rick Bragg's voice started grating on me after a while. Maybe I'd read too much of his writing in the NY Times before I read the book. Anyway, more recommendations always welcome.
@Steven Ford: I'll try to track that down for you, but no luck yet.
@John Tynan: So glad you took a chance on this. I really think it is a fine book, not just for the girls-who-love-horses set by any stretch.
I started the audiobook over the weekend, and I really like it! I had to hit pause because I worried I'd blow through the whole book and finish too early.
But I think you said the 1st chapter was originally a short story. If I didn't know that you, Sarah Goodyear, have good taste in books, I'd worry that it's all downhill from there.
@Tricia: Don't worry, the story-telling just keeps rolling.
I am so loving this! I should be in bed, but I can't stop reading (except to check in on what other people say). The only other horsey book I've ever read was 'Cissy's Texas Pride' when I was about 8 years old, which was good, but I was afraid I wouldn't be able to get into this one. I was so wrong!! Thanks!
Hi all! I'm still making progress with the Aryn Kyle book... somewhere in chapter 3 I think. And Darn! I can see a few things coming... like the proverbial train wreck.
Tell me, when May 2nd rolls around, what can we expect in terms of participation? Will we be listening to you all discuss the book via the podcast and replying by posting to the blog? Or, will we have an IM chat session? Or would we be posting updates to twitter?
Maybe we'll all descend on Andy's for a house(s)warming party. I'll bring the bean dip and some Arizona microbrews...
Your thoughts?
@Jenni Waters: So glad you're enjoying.
@John Tynan: I will go on the air that day and briefly talk about the book with the host. Then, there will be an open thread on the blog that day where you'll be invited to share your comments, respond to those of others, and also to pose questions for the author...your questions might be incorporated into the host's interview with Aryn Kyle, which will air a couple of days later. Last time, a listener called in and asked the author a question on the air.
Twitter might start to factor in at some point, but right now we're trying to focus things on the blog so that our energies don't get diffused.
It's all in the formative stages and your input is welcome. Andy has not yet issued an invitation, though...
@Sarah: Appreciate the heads up.
One question. (and I apologize if this is off topic for anyone, but) I'm trying to put this into my calendar but I'm unclear as to the time the show airs? Am I right in thinking that it's 7am ET?
I suppose I can find a station which streams the show at that time and post to the blog at the same time. Or, do you stream the show live from NPR.org?
I'll wait on the invite. I hear Andy makes a mean Matzah Brei and kneidlach. :D
All the best, JT
@John Tynan: The show does start at 7am ET. You can stream it directly from the NPR site. Not sure what time the books segment will run. I'm going to send out an alert to the people signed up for the mailing list on any logistical information I have in advance.
Looking forward to it.
I have three chapters left to finish the novel, and I don't know if I'll be up at 5am to listen in on the show, but...
In looking back at my notes - one passage that I noted reminded me of the section at the end of Catcher in the Rye from which the novel gets its name... It reminded me of something Holden Caulfield might say, were he a girl:
"What about animals?" I asked finally. "What about them?" I had waited for the tears to stop before I called him, waited until my whole body was empty and dry, hard as a fist. But now I felt the sadness rising again inside my chest. "It just seems like there should be someone, something out there that cares about them, cares that they existed, that they suffered or didn't." My voice rasped across my tongue, thickening my words and tightening behind my sinuses. "Something out there ought to be watching over them."
Did anyone else see Alice as a kind of Holden Caulfiend for girls?