Skip to Main Content
Computer Solitaire Hooks Another Generation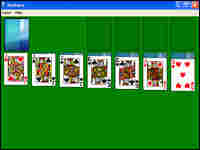 "You don't win that often, but you have these incremental victories."
So says Josh Levin, author of a Slate article on the bizarrely addicting computer game Solitaire.
On today's show, Levin talks about why it is that so many people play Solitaire on their computers. In a Grand Theft Auto world, a lot of us still turn first to a game that hasn't changed all that much since the 1970s.
Personally, I never play Solitaire anymore. But dear listeners, I know you're out there lining up those cards on a screen. Set the mouse down for a second and tell us why.
Outwitting old Sol first thing every morning is an instant brain boost; it gives me that proverbial pat on the back that says, "You can do this!" especially when it's a really difficult game. Senility has not caught up with me yet.
I think I should admit to a "mild" addiction to solitaire and free cell. I usually play whenever I turn on the computer, especially when I'm using the internet for audio programing; I win at solitaire fairly often; free cell is more difficult. I also play sudoku. It's all good, baby!
I like to play while listening to NPR and BBC news shows and while waiting for photos or video to upload. I have to limit myself, though! It's too seductive to play until the next win . . . okay, until the NEXT win . . . okay, just one more win . . . you get the idea.
Solitaire is great because it's the gateway drug of the gaming world. All those addictive flash games you play all by your lonesome use the same "incremental victory" formula as solitaire. They also have the "no brain" or "meditative" factor so you can play with one level of your brain and use the higher level brain activity to compose that research paper or business proposal. I haven't played the card game solitaire in ... years probably but I freely admit to playing its children and grandchildren. Two games in particular: Pandemic (a game where you try to make a global virus before 200 days pass), and Bloons (you shoot balloons...).