Skip to Main Content
Vending Machine in Need of a Caption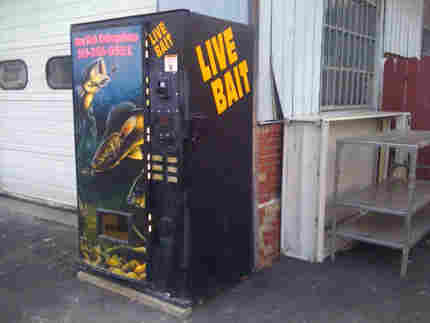 I just keep thinking about how many things are alive inside this machine.
IS that next to some guys garage?
What's our refrigerator doing in Ithaca?
Caption possibilities, or ad slogans?
Bait - it's the reel thing.
I'd like to buy the world a carp.
Be young, have fun, eat bait.
It's mollusk time.
Plop, plop, fish, fish, oh what a relief it is!
Betcha can't troll just one.
You got chum in my peanut butter! Well, you got peanut butter on my chum!
Breakfast of chubsuckers.
The largemouth bass that refreshes.
...and of course .... "Got Bait?"
Always there for you bpp-ers!
California Redemption Value: $1.50.
Little. Yellow. Different.
Warning: Reaching an arm up into this dispenser may result in dislocation, loss, & consumption of arm.
The heart of the Russo family's drug trafficking operation was purportedly housed in this vending machine, the hideout of mastermind Al "The Worm" Russo. Former gangsters said that his demise came about when a desperate angler punched the machine to get his money back, accidentally upsetting "The Worm" into the dispenser slot. It is now rumored that Al Russo sleeps with the fish.
How did a Minnesota gas station end up in Ithaca, NY?