Who Are You, Anyway? Take Our Listener Survey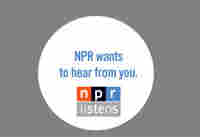 Dear Bryant Park Listener,
We're all ears, all the time. But for the next couple of days, we're taking notes.
That's because our regularly scheduled audience survey is in force. Think of it as a kind of routine checkup. We'd like to know what you think of the Bryant Park Project — what you like and don't like, what you'd change in a heartbeat or lie down on the tracks to keep.
And we also want to know who you are (Hi, Mom!).
The good folks who drew up this miracle in surveying promise it'll take seven to 10 minutes of your time. First person to finish in five and a half minutes gets an air kiss from me. Seriously, I need you guys to fill this thing out, please. And thank you.
There's the link to the survey, on the right, where it says "NPR wants to hear from you." See?