Who Are You, Anyway? Take Our Listener Survey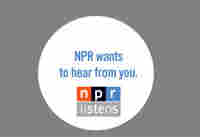 Dear Bryant Park Listener,
We're all ears, all the time. But for the next couple of days, we're taking notes.
That's because our regularly scheduled audience survey is in force. Think of it as a kind of routine checkup. We'd like to know what you think of the Bryant Park Project — what you like and don't like, what you'd change in a heartbeat or lie down on the tracks to keep.
And we also want to know who you are (Hi, Mom!).
The good folks who drew up this miracle in surveying promise it'll take seven to 10 minutes of your time. First person to finish in five and a half minutes gets an air kiss from me. Seriously, I need you guys to fill this thing out, please. And thank you.
There's the link to the survey, on the right, where it says "NPR wants to hear from you." See?

Hmm, I don't remember taking the survey but when I clicked on the link I got this message "Your responses for this study have already been received, thank you." but no progress reported.
me too. please check the link.
Same thing happen to me...
Sorry about the bad link, y'all. It's fixed now. Thanks for the holler!
When I try the link I get the tail end of someone else's responses (last 5 pages is all I see). If I try to respond I get an error at the end that my responses were already received.
Still says I have already taken the survey. :-(
Sorry to be the one to break it to you, but oh-no it isn't.
laura - got the same message that the fist 2 posters mentioned
Laura,
I don't think its fixed yet. I'm still getting the "Thank you" response.
Apparently, some things don't want to stay fixed. The link's over on the right of this page, where it says "NPR wants to hear from you."
Yeah, the link to the right isn't working either.
Hey :(
I wanted to participate, but I also came across faulty links
The way I praised you guys, they oughtta show up with some bonuses or something! (And I was being sincere.)
Survey worked for me.
@Maura Ditto for me!
Asking listeners what they think? Brilliant!
Worked for me, just completed the survey.
I forgot to put in the survey that I love Rachel Martin!
Doesn't work for me - gone and done?
Hey Laura,
I did the NPR survey @ the 'NPR Listens' link - the basic "orientation" about me & NPR - nothing about bpp specifically.
Is there/will there be a bpp-specific survey? Thanks!
Laura is a fraud! It's just NPR, not BPP! Unfair... Finished it anyway...
:)
And @Jim Trenton: hope you get a good ABC signal where you live. Sniff.
Did the survey--- I just listen to podcasts, but I answered all of the radio questions from how much I listen to podcasts...
@Marc -- This survey switched from one on the BPP specifically to NPR's more general one late last week. I'm sorry to miss you on it.
Link worked. Took survey. I commented about the awesome that is this show!