Dawn Of A New Day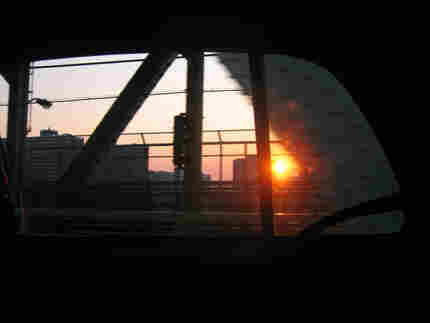 There's a certain Zen to the pre-dawn commute. Empty streets, birds chirping, a sense of victory at having beat the masses.
I'm a lifelong New Yorker (translation: jaded curmudgeon) but in these early-morning moments, the city often wins me back.
A shorter BPP means a later start time. I got to leave my house when it was light out and rode my bike up the spine of Sixth Avenue, past the sites of chance encounters and old jobs.
Manhattan's in constant upheaval and today I got a heavy dose of nostalgia.
The former site of the Moondance Diner is a construction site, soon to be condos. The Chelsea neighborhood where I had my first full-time job as an outreach worker with the local homeless population, now has fewer vagrants and a lot less sky. It's been in transition for over a decade, but I'm still not quite used to the wall of buildings that replaced the weekend flea markets-cum-parking lots.
But all the changes aren't bad.
In 1990, when I worked at the Pier 1 across from the main library around the corner from here, Bryant Park was an eyesore and a scary place, even in the day time. I have a soft spot for the grimy, higher-crime days of New York, before the city was overrun with Starbucks, Duane Reade and Sephora stores, but I gotta admit, Bryant Park, with its lawn closings, photo permit regulations and chichi eatery, is an oasis and a jewel.
It's great to plunk down on the grass, glance past the new green building going up across the street and focus on the sky. And the great New York sport of people watching. Once day after work, some strangers let me try out their professional-weight hula hoop. It was great to get the all-day-at-the-keyboard kinks out — and to shake and shimmy in full view of Midtown.