Skip to Main Content
The Serbian Taxi... of Gold!

Photo by Madeleine Brand, NPR

I don't think he'd be offended if I told you that my husband is a weirdo. Ok, maybe that's a bit strong. He's an iconoclast.
When we first moved out to LA from New York, he wanted to live in a shipping container. I thought maybe it would be a bit cramped. A bit freezing/boiling in the winter/summer. I was pregnant at the time, and not into experimental nesting. Of course, within a year, it would be uber-hip to have your home made out of shipping containers from here to China.
Score one for Joe.
Joe, of course, doesn't see his far-sightedness as a competition. (And he also can't help butting in on my blog post to explain his thinking.) "I grew up in Buffalo," explains Joe, "which is all about decay and rust and old buildings. I was excited by the prospect of California's wide open space, light and sun. I thought you could live in anything. A yurt, e.g.. And then my inner-Rust Belt thought: why not shipping containers?"
Thanks, honey. Back to my story now.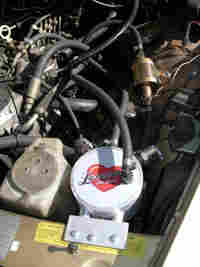 Next, Joe announced he was buying a used Mercedes Benz diesel station wagon so that he could convert it to run on veggie oil. I did the equivalent of a "that's nice, dear" and leased my own brand-new car. (Leased? Brand new? What would Michelle Singletary say?)
But this was before gas was $1,000/ gallon. Now things are a little different. Score two for Joe.
After my lease was up this year, guess what I bought? It's gold, with tinted windows. I call it my Serbian taxi.
And it runs on veggie oil....that we buy for $2.25/gallon.
Now, who's the weirdo?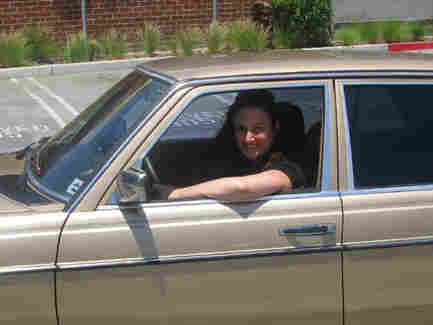 Photo by Gary Dauphin, NPR


For more information on converting your car to veggie oil, visit Lovecraft Biofuels. Do you have your own biofuel/veggie oil/iconclast husband story to share? Tell us about it in the comments.
I see Joe went to Lovecraft Biofuels. Smart man! Wish I could convert my car.
Yes, he went to Lovecraft for the kit, but installed it himself. He's handy that way.
Joe obviously didn't think his old man reads NPR blogs (most likely believes I don't know what blog means) but Buffalo is a city filled with architectural style for the ages. He may not like it but those in the know do. His eclectic outlook is obviously a genetic trait, of which the world needs more.
Nice mandals, JOE! You're a true Californian now.
Madeleine -
I'm not one to throw wrenches (or pliers or any other building tool), especially not while living in fragile house of duct-tape. So, this is more of a challenge/possible inspiration for Joe.
Now that we're all jealous of your veggie oil-running cars, he might want to move on to building his own plane like this guy (http://www.youtube.com/watch?v=SqrAA0xDKmE)? According to YouTube, he's the third Chinese Wright brother.
I mean, isn't FLYING over grid-locked L.A. the ultimate California Dream?
Send Joe to Georgia for a visit and he can convert my old convertable. Of Course this will include meals!!! Everything fried!
Being one who has lived next to him for many many years (20plus), I have had the pleasure of listening to his (as I called them) get rich quick ideas (and he had many). Nice to see one of his ideas has actually paid off.
So that being said when is installing mine?.
Still Buffalo vs California?? or Snow vs Fires. I take the snow anyday. It goes away with very little fight.
Very cool. I'm with Joe and I'll gladly call myself a weirdo (although I do like being considered an iconoclast). Been driving on veg for two years now and haven't looked back. And as far as a Yurt, convince my wife and I'm in!
Ever since I've known Joe all he does is tell me about crazy ideas especially since he's moved to LA....and as far as I know they have all worked out. He's pretty neat I have to say!
This is your long lost cousin Karen Keen (Perno) and I have always thought so much of you & Madeline! This article is so interesting. I have always enjoyed hearing the updates from "Aunt Millie and Uncle Joe"! Your kids are beautiful and in all the photos I have seen you are always so happy! That is what life is all about!