Sleepless And Singing In Tennesee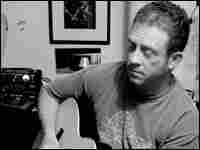 As part of our ongoing series of conversations with listeners about how they're weathering the financial storm, we heard from Nathan Bell of Signal Mountain, Tenn. this morning. He was laid off from his job as a manager at AT&T a few months ago. Now, he finds himself unable to sleep worried about whether he can take care of his family financially.
A former singer-songwriter, he does have more time for his music these days, he says ... as well as some really awful TV. You can hear one of his songs above and the full interview here.