Your Turn: Zack Morris
From Good Morning, Miss Bliss and Saved by the Bell, created by Sam Bobrick
Nominated by Alejandra O'Leary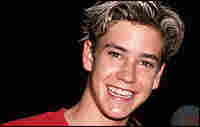 Zack Morris was both my hero and my heartthrob when I was growing up with television in the early 1990s. Sure, lots of girls wanted to kiss Zack, but I don't think there was any young Saved by the Bell fan of either sex who didn't want to be Zack Morris.
Conniving, blonde, lusty, morally impressionable, and ultimately vulnerable, Zack was the narrator of everyone's life on Saved by the Bell. He could manipulate the universe by calling a "Time out!", invent a "wave meets shave" hairstyle, meet D-list celebrities like Casey Kasem at a Dance Contest, have at least four "best friends" (Jessie, Slater, Screech, and Lisa) and charm the pants off of both his nemesis Principal Belding and the beautiful Kelly Kapowski. (Though he would never literally charm her pants off!)
In Zack's world, a kiss is the apex of all satisfaction. Zack Morris proved that you can be innocent and impressionable, but also intelligent, dynamic, and thrilling, all at the same time. He is the Puck of my generation.
I don't think this writer knows who or what Puck was. It wasn't this Zack character.
Yes! You've wonderfully described Zack and the charm he had for SBtB fans of both genders. Cunning and manipulative, yet sweet and heartfelt...fans wanted to be scheming like Zack and/or wanted to be charmed by his smile and romantic ways. Saved By the Bell might have been laughed at as a one dimensional, bubble gum show, but its characters were great fun to watch!