Your Turn: Matilda Wormwood
From the novel Matilda, by Roald Dahl
and movie of same name
Nominated by Sydney Meader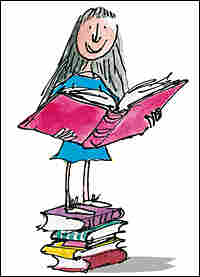 Matilda Wormwood didn't have an easy childhood. The daughter of the wicked Harry and Zinnia Wormwood, Matilda was neglected and forced to bring herself up into a cruel world filled with rude big brothers and evil school principals. With no one to turn to in the real world, Matilda turned to books. A brilliant child, Matilda could read by the age of 3 — and was reading literature by 4.
When I was first introduced to Matilda, I was immediately intrigued by her. As a 7-year-old, I thought she was the most amazing person in the world. Smart, brave, and kind, she was exactly the kind of girl I wanted to be. It didn't hurt that she had magical powers and was triumphant in her fight against the monstrous Miss Trunchbull.
Never in my life have I felt as much admiration towards another character as I did towards Matilda Wormwood.
Great choice! MATILDA remains, 18 years after I first read it, one of my very favorite books.
Matilda was one of my idols while growing up. Especially since my parents thought I spent too much time reading and were always taking my books away. She was a great comfort.
I second this one. She made it seem normal for a little girl to love literature. This book came out when I was 11 and totally validated the 'wierdness' of being a bookworm. I now, at age 30, have a degree in english literature and a darling daughter named, yes, Matilda.
My family life wasn't the best, so, when I discovered Roald Dahl's tortured child characters like Matilda, she became the character that I wanted to be. Smartest girl in the room, blessed with powers that her parents don't seem to notice. Tormented, she finds a way to shine. That's a powerful lesson for children like me to learn.
i read that book and it is the best book ever! if you are reading this comment right now i really recommend this book to you.
I LOVE this book. I think that your blog was great.
I liked the way you describe how smart Matilda really smart she is when she is only 3 and 4.
This book really got to my heart and what happened to Matilda could of happened to anyone.
This is a really inspiring book about the struggles you can have during childhood, and encourages you to always think out of the box. Matilda rocks!
i love this book, i would definitely give this book to someone who would like it!