Maine, Colorado Governors Races Heat Up
Maine, Colorado Governors Races Heat Up
Maine, Colorado Governors Races Heat Up
While the battle for control of Congress has gotten most of the media attention this year, the gubernatorial races under way in 37 states are important as well — in part because of the impact some of those governors will have on Congressional redistricting.
Here's some fresh reporting about two of those contests and a look ahead to what could be a hot debate tonight in New York:
— From Maine, NPR's Tovia Smith reports on All Things Considered today that the contest between Republican Paul LePage, Democrat Libby Mitchell and independent Eliot Cutler "may be one of the most bitter" governors' races in the nation.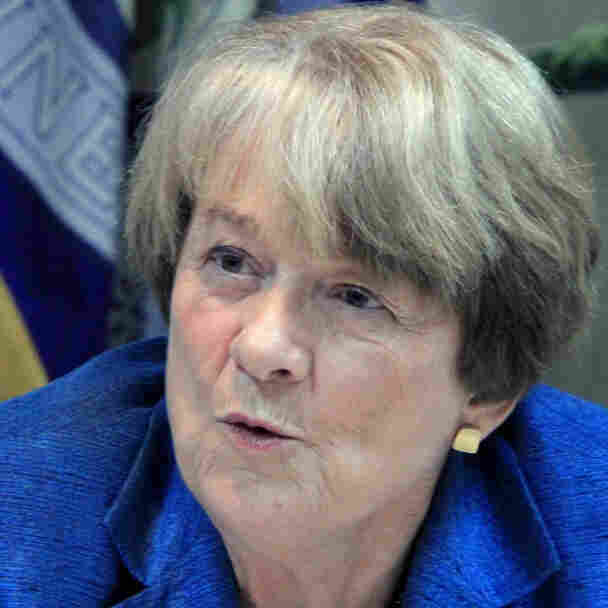 LePage caused controversy by boasting that if he's elected "you're going to be seeing a lot of me on the front page saying 'Gov. LePage tells Obama to go to hell." And, he recently used a familiar barnyard epithet during a news conference after being asked about reports that his wife is a resident of both Maine and Florida — and took tax breaks from each state.
Mitchell, Tovia says, "has taken hits for taxes being too high, public assistance being too generous and government being too big." The current governor, John Baldacci, is a Democrat like Mitchell. He didn't seek a third term. Mitchell has also had to deal with controversy over a photo, released by LePage, that shows her laughing at a picture calling President George W. Bush an "international terrorist."
Recent polls show a tight race. NPR's Ken Rudin calls the contest a "toss-up." The Portland Press Herald writes that "the latest MaineToday Media poll shows LePage back ahead, but his 6 percentage point lead is within the poll's four-point margin of error, since adding four points to Mitchell and taking four from LePage would actually put the Democrat ahead."
— Tomorrow on Morning Edition, NPR's Jeff Brady reports from Colorado that while Democrats seem headed for a rough time on Election Day, there is at least one potential bright spot for that party: Not long ago, Republicans seemed to have a good chance at taking over the Colorado governors' mansion. But since then, GOP in-fighting and scandals "have all but squandered that chance."
Denver Mayor John Hickenlooper, the Democratic candidate, has been ahead of Republican Dan Maes and Constitution Party candidate Tom Tancredo (a former GOP congressman), in most polls.
But note the qualifiers in that last sentence — Hickenlooper "has been ahead" in "most polls." As The Denver Post's The Spot blog noted on Friday, Tancredo "has moved within 4 percentage points of John Hickenlooper in the governor's race, moving the race to "toss up," according to the latest poll from Rasmussen Reports."
NPR's Ken Rudin still has the Colorado contest rated as "Safe-D" — as in "safe" for the Democrat. But, there are still two weeks to go.
Meanwhile, there's a third story coming tomorrow, also on Morning Edition, about a governor's race. NPR's Robert Smith will report from New York about tonight's 7-way debate, which could be wild. Not only will Democratic gubernatorial nominee Andrew Cuomo and mad-as-hell Republican Carl Paladino be there, but so will:
— Former madam Kristin Davis, who wants to legalize marijuana and prostitution.
— City Councilman Charles Barron, a former Black Panther, who has made fighting corruption his top issue.
— Rent Is Too Damn High candidate Jimmy McMillan. His party's name says it all.
— Green Party candidate Howie Hawkins.
— Libertarian Warren Redlich.
Update at 8:45 a.m., Oct. 19. Here's the audio from all three reports. First, the race in Maine:
Maine, Colorado Governors Races Heat Up
Then, the Colorado contest:
Maine, Colorado Governors Races Heat Up
And finally, the debate last night in New York:
Maine, Colorado Governors Races Heat Up