Herman (Cain) Was Herman At Press Club Appearance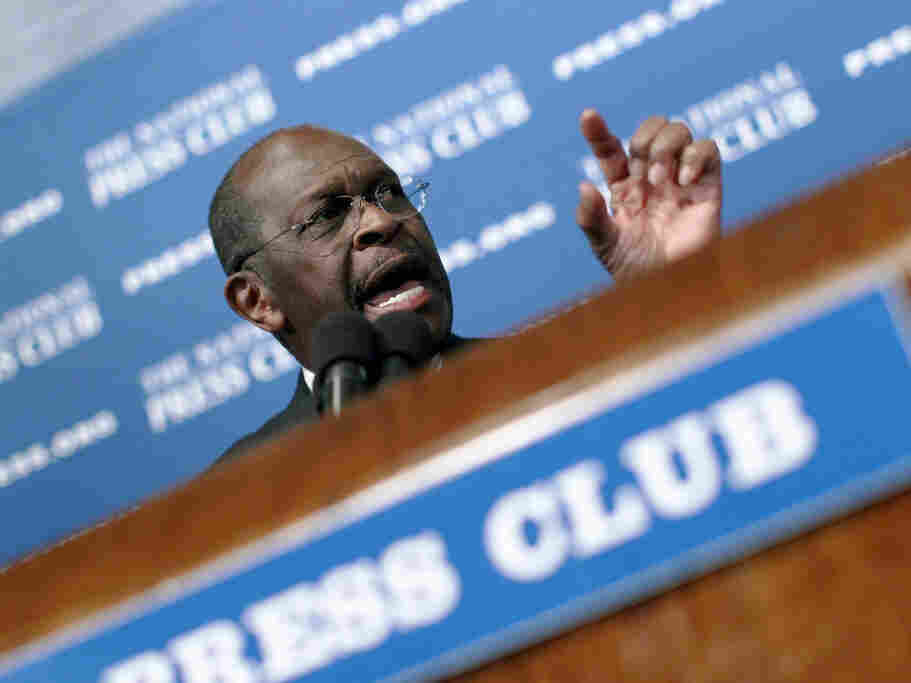 Herman Cain at The National Press Club, Oct. 31, 2011 in Washington, DC.
Win McNamee/Getty Images
Herman Cain stood at the podium at the National Press Club Monday and pointed his left index finger for emphasis and uttered the following words:
"I would be delighted to clear the air. In all my 40 years of business experience, running businesses and corporations, I have never sexually harassed anyone."
Many will recall another politician who famously waved his right index finger to deny reports of embarrassing behavior. Of course, with President Bill Clinton, the reports of misbehavior turned out to be true.
For right now, what we have aside from the Republican presidential candidate's denial is a solid story by Politico, which other news organizations are confirming for their part.
Two women complained of sexually harassing behavior by Cain while he was chairman of the National Restaurant Association in the late 1990s, the women left the trade group and received settlements related to their Cain accusations.
Cain's press club appearance, scheduled before the weekend report about the sexual harassment charges came to light, was bound to be widely watched. Cain, the onetime CEO of Godfather's Pizza, is tied with Mitt Romney for the lead in numerous presidential polls. He is the latest GOP rising star for those voters who want anyone but Romney as their party's presidential nominee.
But the harassment story made his appearance even more anticipated than it already was. A row of TV cameras longer than usual lined the rear of the room.
And those who either were there in person or tuned into C-SPAN weren't disappointed as Cain did something most people had never seen a major party presidential candidate do at the end of an appearance at the club. In response to a request from club president Mark Hamrick, Cain sang a gospel tune: "He Looked Beyond My Fault." It went in part:
"I'll never know why Jesus came to love me so. He looked beyond all my faults and saw my needs."
Whatever his faults, one of them is not a failure to understand the importance of entertainment in politics.
But before that extraordinary moment, Cain demonstrated that even as he runs for the Republican nomination as a Washington outsider, he would fit right into the nation's capital in his ability to express righteous indignation:
"...While at the restaurant association, I was accused of sexual harassment, falsely accused, I might add.

"As far as a settlement, I am unaware of any settlement. I hope it wasn't for much because I didn't do anything."
He had used a similar formulation on Fox News shortly before. Jennifer Rubin, on her Right Turn blog at the Washington Post, asks all the right questions about, how exactly, Cain could actually know as little as he says he does.
Following-up, she asks if the Cain campaign's mishandling of this crisis — it didn't provide Politico with a meaningful response for ten days — doesn't undercut the central tenet of his campaign, that his business management skills will save the nation.
Cain was asked if he suspected one of his rivals of tipping off the media to the sexual harassment issue. He said he didn't know though he's aware that becoming a top-tier candidate made him a marked man:
"This bulls-eye on my back has gotten bigger. I have no idea, we have no idea, the source of this witchhunt. Which is really what it is... We've been busy trying to get my message out."
In a reiteration of a view he has expressed in other settings, Cain denied that any of the resistance President Obama has encountered has been because of the president being the first African American to hold the nation's highest office.
"I don't think people being uncomfortable with this president has anything to do whatsoever with his race. It's bad policy that people have problems with this president."
Perhaps Cain really believes that all the people who expressed racial animus or even anxiety about Obama during the 2008 presidential race have had a conversion. But that seems unlikely.
Cain's success, some have suggested, may come partly from a desire, perhaps even subconscious, among some white conservatives to lean into the notion that some of the hostility towards Obama has a racial source.
The one-time Godfather's Pizza CEO would have none of it:
"Some people have even made the assertion that the only reason that I'm doing so well trying to get the Republican nomination is because white Americans, the Republican Party conservatives, are trying to send a message 'We're not racist.' Come to some of our rallies. Join us on our bus tour... and you will come to the conclusion that I have come to and that we have come to. This many white people can't pretend that they like me."
At his earlier stop at the American Enterprise Institute, before leaving the stage, Cain quoted Mark Block, his apparently ebonics-speaking chief of staff, who has said "Herman be Herman" meaning the candidate is going to remain, as he himself likes to say, "unconventional.
And he was certainly that at the press club. Did he have a proposed solution for the housing crisis? Not really, aside from getting the economy back on track. Housing being a huge drag on that very economy wasn't a connection he appeared to have made.
Did he have a proposed solution for the growing loan burden of college students? Not really. If it's not part of his 9-9-9 plan, he apparently hasn't given the issue much thought.
And at one point he said as president he would go to the states to get them to help restructure Medicare so there wouldn't be a one-size-fits-all solution.
How states would be able to make Medicare work any better than they've able to make Medicaid work, he didn't explain.
But that was just Herman being Herman. Or, as Block would say, Herman be Herman.