To Eat Or Not To Eat?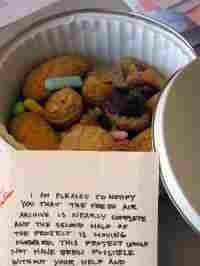 Back in December, All Things Considered aired this story about the enforcement of Louisiana's ethics policies and its effect on public librarians. In short, no cookies.
That kind of policy that may not sit too well in our library, where treats and cookies are the norm rather than the exception. As a matter of fact, just two weeks ago the lovely folks from Fresh Air sent us the most delicious tin of cookies as a thank you for helping them with a digitization project.
That got me to thinking, if I accept and eat the cookies would I be violating the NPR ethics policy? After an exhaustive and thorough review, I was happy to discover eating said cookies would not result in ethics violations. That may not be the case if the cookies were gilded in gold and baked by Betty Crocker, but I digress. Needless to say, we accepted the cookies. Now, all that remains are memories and photographs and a silly little blog post.