Bill Clinton, Waving The Card : As A Matter Of Fact Bill Clinton's health care reform efforts from 1993 highlighted in the archives.
Bill Clinton, Waving The Card
In preparation for Thursday's White House health care summit we've been digging through the audio archives for highlights from the health care debates of the 1990s. The first stop in our research is usually our internally maintained audio database. The indexing we do highlights such elements as the names of all speakers heard in NPR coverage, the context of their contribution (direct interview, public statement, acting, singing, etc.), and any particularly unique sounds such as protesters chanting, "Yes we can!"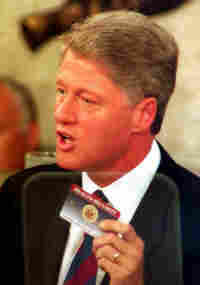 While our database includes these, plus subject and geographic terms, one thing it doesn't account for is the visual dimension. In radio, the visual exists in the mind of each listener — that's one reason so many of us love the medium. But this time, we were looking for the speech where Bill Clinton famously held up a prototype health care card and promoted his plan for guaranteed health care security. Using our own transcript search capabilities, those in Nexis, and referring to external sources such as this one from PBS, we were able to translate the elements of a visual description into an event with a date that could be found in the audio archives. On deadline!