Frankenstein As New Earth Day Spokes-Monster?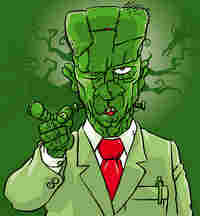 April 22nd is Earth Day - a holiday celebrated around the planet to inspire appreciation and generate awareness for the Earth's environment. It just so happens, I have recently concluded compiling a report about NPR's Climate Connections. Produced in partnership with National Geographic, Climate Connections was a year-long series of stories reported from around the world that explored "how climate changes people and how people change climate." It is a lovely series, with much interactive web content, such as video, audio slide shows and animated web features. I highly recommend visiting the series page and poking around on this Earth Day.
And what is my favorite story from the series? Did Climate Inspire the Birth of a Monster, a story questioning whether climate change possibly inspired Frankenstein and other works of literature. Listen to the story and read the related web articles here.