Tax Day: Do Not Pass Go, Do Not Collect $200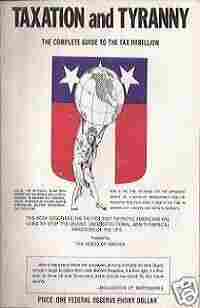 Today is the day we have, for the most part, finished our taxes, almost finished, filed for an extension, or begun a slide into the kind of state in which we are only fit for public office. But the United States is full of all sorts of colorful individuals, many of whom have their own reasons for not wanting to engage in this annual ritual. Consider the late Karl J. Bray, tax attorney, Utah congressional candidate (success rate: 1% of vote), and author of the pamphlet "Taxation and Tyranny" which posited that the income tax was search and seizure without due process of law, and thus illegal. Clever! Right?
Oops, he went to jail. Hear all about it in this 1976 Susan Stamberg profile.