Skip to Main Content
Bon Iver, Melting Our Cold Hearts
On Monday night I saw Bon Iver play at Holecene in Portland. I had seen them play at SXSW but I wanted to view them in a different context, away from that strange beast of hype and amazement and anticipation that music festivals create.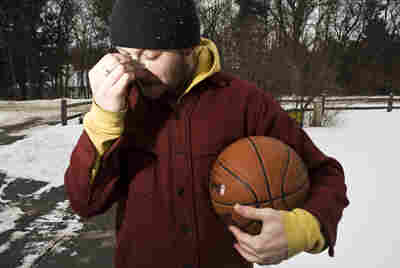 Justin Vernon of Bon Iver.
The Portland crowd was full of love (and beer), and from the moment Justin Vernon and his bandmates took the stage, the audience hung on every note, in-between song banter, and a flood of feedback. I am not exaggerating when I say that people cried. Bon Iver's songs are delicate but they are not soft; the comfort in them is fleeting, their beauty uneven. In the live setting the songs are wilder, they screech and veer towards chaos before closing in on themselves. Vernon's voice is part songbird, part howl, and it is fearless. The chemistry between the players was fantastic, their delivery earnest and often dire. Whatever that strange magic is that certain people possess, Vernon has it. But both during songs and between them, singing or talking, he is himself: grateful, humble, aware of the moment.
On of my favorite non-musical moments was when someone from the crowd yelled, "F**k Jens Lekman!" The comment was in response to our local weekly having set up an ersatz rivalry between Lekman and Bon Iver, who were playing on the same night. Vernon's response was, "What? No! That guy is on our label". Whoops. I guess a little research is needed before you drunkenly yell out what you think is a compliment.
And since we've been talking about fans, I should add that Bon Iver's fans are pretty great, at least in Portland. We were even asked to sing along to "The Wolves (Act I and II)", and though this request usually makes me cringe, I sort of enjoyed it (though I didn't actually sing. Does mouthing the words count?).
Anyway, if you haven't already heard it, listen to Bon Iver's song "Skinny Love" or stream the entire album here (thanks, Rick).
You can also hear a full concert by Bon Iver, from NPR Music's SXSW series.
hailing from sweet wisconsin, bon iver. land of humility, indie rock and snow.
Wait...do you work for Jagjaguwar?
I don't. But I do seem to be loving their bands right now. -CB
I just happen to be listening to "For Emma, Forever Ago" right now. Currently in the midst of 'The Wolves'. I'm in my office and it makes me want to cry... can't imagine this live.
ah, that sweet, sweet skinny love. i'm bummed i missed it.
i feel the same way about sing along requests and the like (i think mouthing the words is ok, though!) rivalry b/t jens & bon iver? shouldn't we just be glad they both exist?
the area of Wisconsin where Justin wrote and recorded all the songs is just a hourish from my house where i grew up here in Northern part of the state. The fact that he recorded it during the middle of winter is just amazing since it was probably below zero for most of those months and the chill is definitely all throughout the record.
Aw, he's down WI proud :-)
the barrage of bon iver talk from carrie and the npr folks is certainly justified. this album is great--completely addicting.
carrie, congratulations to you and your npr team for stellar sxsw coverage. i soaked up every second of podcasting and blogging you all did.
Mouthing the words counts. Although one of my favorite moments at a live show was last May when Arcade Fire told us to scream our lungs out during "Wake Up." That was something special. Their own energy allowed for nothing else but to sing along as loud as you could.
ah, big thanks to npr for introducing me to this fantastic music. his songs sort of remind me of gary higgins.
and what's up with bashing jens lekman. that guy's a great songwriter. and a totally sweet swede.
TOTALLY with you about not liking the sing along requests!!
I love jagjaguwar. So many sweet musicians on one sweet label.
sing alongs are awkward but i was part of one at an evans show that ian mckay called "climactic dramatic chorus extro fade out" (err, or something like that) and it was pretty great.
p.s i second the praise for the existence of jens lekman and bon iver!
i love bon iver.(and pretty much everyone else on Jagjagwaur.)
i now find myself singing "skinny love" at random through out the day.
my my my my my myyy myyyyy my!
The reply to "Fu*k Jens Lekman!" was great. I think the crowd/band interaction is one of my favorite parts of a show (minus the singing along).
Somebody threw a dollar on stage during the Jicks show I went to and Stephen Malkmus replied, "There's a no tipping unless you're stripping policy...and I don't feel up to it," which got the crowd even more into the show. That kind of interaction is always nice.
So does this mean Bon Iver > Jens Lekman for you?
See?! (smiles) I told ya sxsw is annoying as hell. lol
I find band demanded sing-a-longs are easier to stomach with a belly full of beer.
I love how you described Bon Iver's sound as "delicate, but not soft." I completely agree. These are songs that bite, rip and sting.
I'm glad Justin Vernon stood up for Jens. While a lot of people think he is too precious, I think his simple self-deprecating humor and sometimes dark bluntness save him from precious pretension.
the title of this album reminds me of that simon and garfunkel song, "for emily, whenever i may find her."
i wish the seattle bon iver fans were as good as the portland fans...loud conversations at the show last night on drowning out the players both during and between songs...why even bother coming??
Here we go: Seattle-Portland rivalry juices flow!
Really, no sing-alongs? I could swear I was at an SK show (Carrboro, NC) with a sing-along to "Light Rail Coyote". The friend I went with insists he doesn't remember the show though, so maybe I hallucinated the whole thing.
I live in Oregon, but chose to miss the Portland show. Instead I'm flying to Illinois so I can take my brother to see Bon Iver there. It's worth it to me to fly 2000 miles so I can expose one more person to the awesomeness that is this band.
First off, am I the only one to notice that Jens and Bon Iver are on two different North American labels (Secretly Canadian and Jagjaguwar).
Secondly, I think Jagjaguwar is LOVING the promotion Carrie gives them. She is on the front page of their website singing praise for the band Ladyhawk.
The moniker and line-up of bands are different, but Secretly Canadian and Jagjaguwar (plus Dead Oceans) are run out of the same office by the same staff. -CB
i wanted to see him so, so bad at sxsw, but the only show i could catch was that one he played with vampire weekend, so of course the line was all the way around the building (parish i believe). anyway, now i'm definitely going to have to -- your description of his shows is just wonderful.
oooh! I just ran across your review...the show in SF was awesome as well. I'm glad you are giving them more exposure- they deserve it.
I don't know if you've seen any of the other videos in this series before but this group called Blogotheque do "take-away concerts" where they get bands to play on the streets of Paris, in bars, seedy alleyways, etc. with minimal instrumentation and to audiences of complete strangers (apart from the sound guy and the cameraman)
Anyway, Bon Iver did one and it's pretty mindblowing- the harmonies are bound to make your hair stand on end: http://www.blogotheque.net/Bon-Iver,4255