Skip to Main Content
The Source Of The Sound
My sister visited a friend's grandfather who had an amazing, super hi-fidelity, crazy-ass speaker stereo system. Knowing I would be interested to see it, she passed along a photo. I thought you might be interested in viewing this thing of wonder yourself.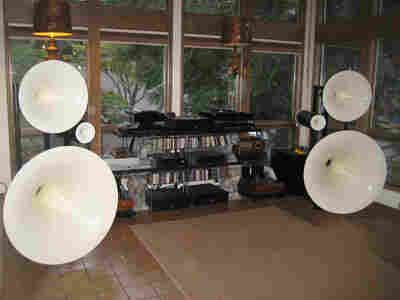 The photo also got me thinking about how all of us music listeners have different devices from which our music springs forth: iPods and mp3 players, car stereos, computer speakers, boom boxes, or the old fashion stereo console. If you are so inclined, please take a picture of the device on which you listen to music most of the time and I'll compile the photos for Friday or Monday's blog.
Send your pictures to monitormix@npr.org
To start things off, here is a picture of my home stereo system (infinitely less cool than the one pictured above). I also have a boom box in the shape of a 1950s car in my kitchen (on sale at Fred Meyer many moons ago), but most of my CDs, records, and mp3s get played through this set up.
Admit it. You really just wanted to show off that FABULOUS bureau.
what kind of speakers are those? i've got to sweep under my stereo credenza and then i'll send a photo.
Yeah, that is a totally great bureau. Too bad those aren't on sale at Fred Meyer. Danish?
oooh i love your red record playerrr.
She's got tofu the size of Texas!
That looks like a Project Debut turntable..? I have a black one but am out of the country so can't send a pic. I'm currently listening to The Triffids on my iPod Nano that I won in a competition, but I ain't taking a photo - you'll all have to imagine it!!
wow, grandpa's speakers look like sousaphone bells. i wonder whether that really affects the sound from the speakers or if they're mostly for show...?
I think they should just be called "grandpa's speakers" from now on. -CB
it must be strange living with those white funnels in your house...
Can that guy be my grandpa, too!? What a sweet system.
"Bureau"? That's a credenza!
A nice one, at that.
It looks like a shrine to some stereo god.
Did your sister say what the system sounded like?
Sadly, no. -CB
I've got a pair of Etymotic headphones. They're pretty sweet, as far as quality of sound goes, but they're no match for the above hifi system. Crazy! Also, it's so good to read the words "Fred Meyer" again. Here in Williamsburg, all I see is "Bloom" and "Ukrops." Seeing that in your entry brings me a little bit closer to home! =)
So I've sent my stereo pics in, but I did want to share the story of the best stereo I have had an opportunity to hear. To make up for my stereo pics.
Due to an audophile's perfect storm of sorts developing on the coast of southern Maine just before Brian Wilson's Smile came out, I was able to finagle my way into a sneak preview of the album sponsored by a local record shop and Nonesuch played on a $30,000.00 stereo in the isolated sound room of Transparent Audio. (the room and stereo can be seen at
http://transparentcable.com/about/about_headquarters.html)
I was just about 30 at the time and had not worn ear plugs to numerous loud live shows so probably about $29,850.00 worth of the sound was wasted on me, but it still sounded absolutely amazing.
The kicker is that the album tracks were delivered by the man who mastered the album, Bob Ludwig. He played a few of the tracks without the vocals at the end of the listen and talked a little about mastering the album.
For a Brian Wilson nut, it turned something already mythical into that much more of an epic experience. I didn't wash my ears for a month after.
Love that credenza! Aesthetically a brilliant set up; I'm sure the sound is on par as well.
I splurged on some nice audiophile stuff when I had a good job a few years ago, but I rarely use it because loud music stresses out my beloved dogs.
So, I generally rock the Grado headphones.
I broke an audiophile addiction several years ago and today prefer spending my money on concert tickets and new recordings (it's the music, stupid!). That said, I recognize your equipment--it's all good stuff--you are good to go.
I also recognize grandpa's stereo equipment as pretty much the most expensive you can buy. Take a look at that room, though. First the garden is a hell of a lot prettier to look at then all that junk. What a waste! Second the sound in the room must be absolutely awful with all that glass in the background. Gives me a headache thinking about how bright it must sound.
Please elaborate on the item on the rt. of the credenza : its make, its function, its non-tofu-ness.
first guess would be glyph horns as seen in the old whole earth catalog. designed by john meyer for sound snobs.
Those big horn speakers are Avantegarde Trios. Avantegarde is one of the leading makers of high-end horn speakers (the same basic technology in use since the 1930s). Amazing thing about these is that they need only a few watts to make a big noise (109 db/w/m sensitivity, for those who care). Yes, they're expensive, but not the most expensive speakers out there by a long way.
Nice gear you've got. Always warms an audiophile's heart to see someone who appreciates good equipment who isn't one of us addicted sorts.
That shit looks like something out of Dr. Seuss.
I WANT THAT LAMP! (it's a lamp, right?)
I applaud the above observation and its idiom.
love the mid century modern stereo set up. you could be in dwell.