Skip to Main Content
Listening Devices Big and Small
I've compiled and collaged the first batch of photos. As you can see, the shapes and configurations that transmit our favorites tunes are varied. For many of us, the notions of hi-fidelity and sound quality would appear to matter less than convenience. Our listening devices are based on room size, proximity to neighbors and co-workers, relative to our financial situation, hand-me-downs, outdated, top-of-the-line, compact, super-sized, go-with-the-decor, clash-with-the-decor, and most of all, well-used.
Thanks to everyone who sent in a picture.
Have a good weekend.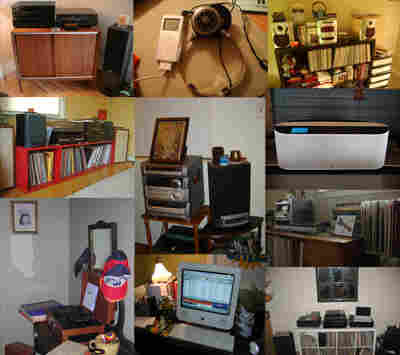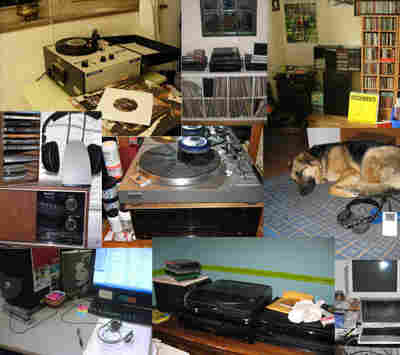 So many people have hard-wood floors these days. Great pictures!
aw, my little babies made the blog! right now they are blasting the slate political gabfest.
It's nice to see a strong showing of turntables, too.
In case you don't check back w/ the previous post's comments, or I forget to go there (always an option w/ the grandpa-brain): What's that white cube on a blue pedestal on your credenza? An antenna that attracts ants? (Absent a more compelling narrative, I remain stuck in the tofu-concept groove.)
You've mentioned you use iTunes, do you have an mp3 player? Sorry, if I just missed this somewhere..
Good to see I'm not the only one who still has a huge rack of CD's. I don't know, I still feel like a physical collection has more *meaning* than a hard drive full of mp3's. Like, you had to go out and acquire those cd's. It wasn't hard, but it wasn't as blamed easy as it is now.
I know it's a little off topic, but I couldn't help but notice the dog. I really hope it's integral to that person's listening experience.
this collage is very appealing to me. nicely done, and thanks for compiling all the pictures!
I reckon it's a lamp, grandpansf.
the cat in my picture is integral to the listening experience (especially when she purrs, it adds to the atmosphere)