Skip to Main Content
Only Visiting This Planet
About a week ago I received a CD in the mail from a fantastic local Portland label called Arena Rock. The contents of the package did not meet my expectations at all. I tore open the padded envelope prepared to read about a young, up and coming Northwest band, full of promise, surrounded by a nascent buzz, on tour with an already sure thing but on the verge of fleeting greatness themselves. (You know the story, I'm sure). Instead, what I found in my hands was a Larry Norman anthology replete with liner notes from Norman himself and a thick booklet of lyrics. I admit to not being wholly familiar with Larry Norman. I knew he was in a band called People! in the late 60's, that he and another member left the band when the rest of the group converted to Scientology, and that he wanted their first record to be called "We Need A Whole Lot More of Jesus, And A Lot Less of Rock n' Roll" (it ended up being called "I Love You"). But I didn't know much about his solo records or the fact that he is considered the father of Christian music.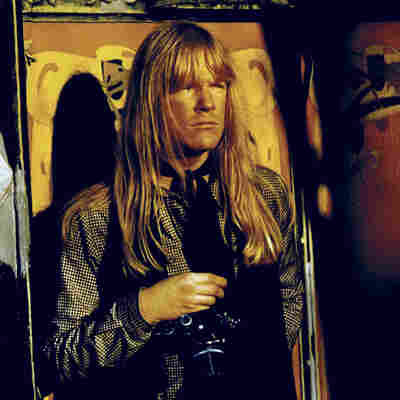 I've spent the last few days immersed in Larry Norman-land, which is a more bizarre and contradictory musical world than maybe even Frank Zappa's or Bob Dylan's. For one, there are less filters. His lyrics have the straight-talking appeal of someone like Fred Neil meshed with the child-like sensibility of Brian Wilson. Norman verges on the poetic, the mystical, and the metaphysical; and he was a shrewd observer of political injustices. His ruminations are non-conformist; they are words of an outsider, and of the conflicted.
Listen to Norman's "I Am The Six O'Clock News" written in 1968 from the album 'Rebel Poet, Jukebox Balladeer: The Anthology'. His label at the time, Capitol, refused to put this song out as a single. For many years, it was the most requested song on military bases.
Another reissue that came my way (actually, I think this is the first time most of these songs have seen the light of day) is by Bum Kon on Smooch Records/Maximum Rock 'n' Roll. Bum Kon were an all but unheard of early 80's hardcore band out of Denver. In 1983 they released their only 7" single, Drunken Sex Sucks. (Ostensibly the Colorado take on "Too Drunk Too F**k" by The Dead Kennedy's).
Listen to Bum Kon's "Nancy Reagan Fashion Show." (Would hardcore have flourished under anything but the Reagan administration?)
What interests me more than Bum Kon's music—which sounds like teens thrashing about, trying on anger and angst but only barely masking a celebratory fearlessness, each song is a smirk—is that the CD unearths a small piece of history heretofore unnoticed. There are thousands of Bum Kons from countless towns from every decade. We all know these bands. They are not the underrated but the under-the-radar. They are the missing pieces to a puzzle, the reason that a guitarist from a famous or semi-famous band came upon a certain sound, or how a singer decided on their affect or outfit. They are artists like Badfinger, Silver Apples, 13th Floor Elevators, Jackson C. Frank (Paul Simon was a huge fan, for instance), Anne Briggs (Robert Plant was influenced by her voice), the Melvins, or Big Star. They are the bands in your cities that never put out an album, that played two shows and then broke up but left a well of influence that everyone rushed to drink from. Or they did put out albums, but someone else came along at a different time, was more poppy, better-looking, or, most likely, just plain luckier.
In regards to this topic, I think of the great Quasi lyric, "better to be a has been than to be a never was." Yet there seems to be an in-between category that is worth unearthing as well, and that is the barely was and the barely were.
Feel free to shed some light on those bands from your towns, or on artists whose brief or relatively quiet existences unleashed an uproar.
(Pictured below: Bum Kon. Photo by Patrick Barber.)

The two songs sound strangely similar.
Shout out to Janet Kim, whose songs I've always loved. We went to college together in Philly, and played in a band together for a short while. She's been a part of the band Kim in Chicago, and last I heard was performing as Evil Janet. I still have snippets of her songs swirling thru my head a decade and a half later, but unfortunately no recordings of the early solo stuff she did.
Never heard of Larry Norma before, so I did a search and found out that he died in February of this year.
I've never been cool enough or connected enough to know about any cool underground bands.
Black Francis/Frank Black was quite influenced by Larry Norman. Lots of biblical stuff in early Pixies... And some straight-talking weirdness/storytelling too. :)
There was a band in San Diego called Clikitat Ikatowi that I totally loved in the mid-90's. I first saw them at a sweaty, ecstatic houseshow and was forever changed by the surging energy of their brand of smart hardcore. Mario Rubalcalva, who went on to play drums in Hot Snakes and Rocket from the Crypt, was in the band, along with four other musicians who went on to various levels of low-grade fame in San Diego after Clikitat broke up in 1996 (I think)Unfortunately, the insane energy of their live shows never translated well to tape, so a true representation of the band doesn't really exist.
Those under-the-radar bands seem to influence craploads more music than people realize. Have you ever heard of the Boswell Sisters? (popular trio in the early '30s) Well they died out and a group poped out of the '50s who sounded just like them and became twice as popular. Now the Ditty Bops (amazing) are gaining (tho still retaining the semi-underground status) popularity. Its so interesting.
Hopefully a similar thing will happen with the late Canadian band the Organ... they were amazing, I miss them. :(
Larry Norman was amazing. Apparently Paul McCartney was a fan. There are a few songs of his that will probably never leave my nano, No More LSD for Me (I Met the Man from Galilee) and They Didn't Know. Great songwriter toiling in a musical genre that wouldn't escape obscurity until the late 1980s.
There was an all girl group in Philly in the mid 80's called Head Cheese that later moved to NYC and became Book of Love and (kind of) hit it big with songs like "Boy".
One of the most memorable shows I ever saw was "Head Cheese under glass" in which they played in the front gallery window of my art college. They did their song "Henna" and during the song the singer gave the drummer a henna. The music wasn't the greatest, but their sense of fun and playful irreverence has stuck and inspired me me all these years.
I'm reminded of Sticks & Stones, a New Jersey band circa 1987-1994 or so that fits the "barely was" category you describe pretty well. I heard them a few years ago after becoming a fan of the singer's current band, and just found their music to be earnest in a way that most of their contemporaries in punk/hardcore just weren't. I never thought the hardcore label fit very well at all actually, but I guess that's a pigeon-hole for you. As good as I think they are, I can see exactly why they never achieved the level of success that their friends had (the very watered down and tacky Bouncing Souls, for example).
Anyway, I got so intrigued by them and by their apparent lost history (me and everyone I knew pretty much had only heard a few songs from what we found out later to be a 40+ song discography) that I put up a little website on Geocities to house any and all pieces of information I could get. Shedding some light on a band like this felt very rewarding, and I was surprised to see that strangers had somehow found the site and liked what they saw of the band there (pictures, zine interviews & reviews, lyrics, discography, that sort of thing).
Shortly after that, Chunksaah Records put out a 2-disc anthology with most of their recordings, and the band reunited for a while a played some shows. Interestingly, while I'd have thought this would be the most excellent outcome a fan like me could hope for, seeing them get success again-- perhaps even bigger success now than they'd ever had before-- kinda caused my diligent interest to flag a little. I haven't updated that site in a couple years and don't listen to them as much lately. I guess it feels good supporting a mysterious underdog from the past, and when they are not that anymore, I know there are other people out there who are now sort of 'carrying the flame', so I don't have to anymore. Or something? It's still an interesting thing to ponder.
< /longest comment ever! >
From my adopted home town of Tulsa: Dwight Twilley.
Ditto the Frank Black/Black Francis and Larry Norman comment. Previous to his death, the only reason I had ever heard of Larry Norman was from interviews with FB.
I'm old enough to have been a big fan of "I Love You" by People since its release. Playing it as I type and it still sounds great.
Both my parents were in could've-been-huge bands in Baton Rouge, LA when I was a kid in the early 80s:
The Times (punk/new wave, a bit like The Jam)
The Paralelles (new wave, like a more rockin' Kate Bush)
The Paralelles were the first all-girl group in the area!
Years ago I was on tour in Akron, Ohio, and I played a little house show in someone's living room. The local band that played with me was called Your Friend. Basically they were two young women, pretty inebriated I think, singing these totally loose and meandering love songs. They'd appropriate lines from, like, local car-dealership jingles, and then sort of wind them around into these plaintive, aching ballads. And then they'd crack up or fall over or something. I mean, it was totally sloppy. But it was so unselfconcious, and so striking in its poignance-plus-silliness, I thought they were completely brilliant. It just felt really inspiring to see two cool girls having great friend-chemistry and being really honest and creative and natural and not worrying about it. That kind of performance is so rare. After they played I just totally gushed to them about how special their set was, and they were like, "Huh?" Because they were just fooling around, and they didn't really expect anything from their audience. And that's probably precisely why I found them so refreshing.
There was a DC band in 94 and 95 called Bubble Jug. They were these very talented 17 and 18 year olds. They didn't seem old enough to be playing what they played the way they played it. I got to see them a few times and managed to get all of their stuff on vinyl though recently they have put out an anthology. They broke up because two or three of them went off to college. I still like this band a lot and I think that they captured what was going on in DC at the time. Here is a link where you can listen to their album online. I would start with the songs "nothing for now" and "Sleep on your stomach." I know they might not be what many of you like but I hope some of you enjoy them anyway. Take care everybody.
http://www.last.fm/music/Bubblejug
Portland, ME has one under the radar band which seems to me will be an obscure influence to someone someday if not already, the The Peepshow: http://www.myspace.com/portlandpeepshow
They put out one album, DUHJ!, in 2002. There's not a clunker on the album, but "Broken Cowboy" and "Suzuki Samurai" are a couple my favorite cuts. They are a Portland favorite, and occasionally still play out...and still fill a venue.
As for a missing puzzle piece, I have long thought that The Milkshakes are probably on a few lists as an influence or catalyst.
I know that 2 members of the band, Billy Childish and Bruce Brand went on to form Thee Headcoats which I believe are listed by the White Stripes as an influence, and i think Mudhoney might have been fans as well.
I met Larry Norman, or more correctly shook his hand and said "Hi Larry" at a book signing of his at Christian supply in Portland. A contemporary and friend of Larry's who is still making music in the same genre is Randy Stonehill,who's song "Christmas at Denny's" still rips my heart out every time I hear it.
Rose Polezani: like if Cat Stevens and Edie Brickell had a lovechild who grew up listening to James, Morrissey, George Michael and Paul Simon then started making music with Chan Marshall, Andrew Bird (he plays on her first two albums) and Mirah on the open mic circuit of mid-90s chicago before eventually moving to a suburb of Boston where she worked odd day jobs and made 8-track home recordings + lo-fi music videos while becoming something of a local underground indie legend and turning down opportunities to work with Dave Fridmann. nowadays, her fans shake/hang their heads in dismay when artists like Feist and Sufjan Stevens get recognition for masterpieces Polenzani (could've/should've?) created years ago.
leilani: yes, clikitat ikatowi was great. there is a brief moment on the LP that catches them "live" and their energy does translate. the unwound/clikitat ikatowi tour never came my midwest way.
some 15 years after it's release, i still listen to the Merel 12" (Gern Blandsten) and get butterflies. they also have a split 7" (with iconoclast i think) called "the guest" that is nothing short of amazing. the drummer went on to Rye Coalition.
a bay area band called Mohinder put out a s/t 8 song 7" on Gravity that is one of my favorites of all time. just found out a few of the guys are in a band called Helvetia.
Harriet the Spy!!! Kent, Ohio!!!
Track Star from San Fransico made me pick up a guitar.
Henry's Dress wrote some of the best pop songs ever.
I loved Star Pimp from your town (or was it SF?) Before the age of downloading i found the Seraphim album on cd from a basement shop for a pound. It remains to this day the biggest bargain i ever found. Not sure who claims inspiration from them though, Sleater Kinney?
Too many people know about the in-between bands from my town (The Vaselines? Lungleg? Orange Juice? The Yummy Fur? See?) but I think Bis have been one of the most influential bands that didn't really 'make it' as such, at least in the UK. I always felt they were unfairly maligned and ignored and were one of the best live bands in Weegieland. Have been cited as a major influence by The Kaiser Chiefs (big in the UK) and Gay Against You/Germlin (crazy, Glasgow-based) among others.
I agree that all of the bands you mentioned were highly influential. I just heard Los Campesinos! for the first time and thought of Bis immediately. -CB
Hey Jason M, what about the band Plunger? and the band Five-0? and the band Moss Icon? Oh yeah, and Grain. and Bob Tilton. All greats among bands on your well chosen list. You are right about Henry's Dress but we would also have to mention Boyracer.
Columbus, OH was home to Lizard Family Music, a label headed by Earwig's Lizard McGee. Earwig is still around and has had a regional radio hit, but much of the Columbus scene was born from that label. There were pre-emo bands like Earwig, Preston Furman, and Moster Zero. Head to Used Kids and see if they still have any of these bands.
At the other end of LFM was Ugly Stick which eventually became Bigfoot. You'll never hear a more heart-wrenching song than "Lollipop".
Louisville, KY had some really great bands in the late 80s and early 90s (and still does!) If you don't live here, you might know about Slint, Rodan, My Morning Jacket, etc. but you might not know about:
Crain
The Web
Evergreen
Babylon Dance Band
Drinking Woman
Oblong Box
Squirrel Bait
Your Face
Sister Shannon
and many more.. this site contains entries on pretty much every underground band from louisville and has a lot of other pretty interesting information: http://history.louisvillehardcore.com/
I'm actually making a documentary about this. Or rather, I'm making a film about The Pants, a legendary rock band that ruled the Burlington, Vermont music scene in the 1990s, and by extension, about the phenomenon you eloquently describe in this post.
The Pants was the band that all of the other bands in town came out to see. Their music was universally appealing -- post punk classic rock with a twangy, weepy edge -- incredibly catchy but not poppy.
They released 3 studio albums before fizzling out in the late 90s. In May of 2006 they played a sold out reunion show at Burlington's largest club venue and the outpouring of nostalgia and crazed fandom inspired the film.
You can see a trailer for the film here:
http://www.youtube.com/watch?v=wmED7wfUK0Y
Here's a video of a cover of a Pants song by some other local musicians:
http://www.youtube.com/watch?v=mllVp77sWSE
And here's a smattering of mp3s and more info on how to find their music:
http://candleboy.com/thepants/?page_id=14
badfinger, "heretofore unnoticed."
ryan: thanks! shame on me for forgetting Grain, one of cleveland's best! about a month ago, brian s. set up a myspace page for them...graincleveland or clevelandgrain, i forget the exact name. the songs stand up today.
missed out on boyracer as well as plunger and five-0.
comoprozac: yup, LFM had a nice roster and Monster Zero were very good.
good times.
Norman probably influenced 90% of the bands I listen/listened to, whether the band knows it or not. I say listenED to because it seems the more time goes by the crappier the bands get because they don't know about the music they're trying to play. Does that make sense? I think you probably understand what I'm trying to say. Back in February when he died, my myspace bulletin list was flooded with posts about how much he influenced friends, even people I would have never guessed it from. I only wish I could have seen him live.
Norman has a really great sound, Im glad I stumbled upon this blog... my musical preferences are all over the place- I have been listening to a lot of Eric Solomon lately, he has a different sound but is amazing
maybe just my browser but both of the above cuts are the same song.
Thanks for the heads up. We fixed it. -CB
I feel like your post begs the question: is it possible for a sufficiently-significant has-been or combination of has-beens to pay enough homage to a barely-was that the barely-was becomes a has-been?
In other words, at the time of Van Gogh's death, he could have been correctly classified as a "never was." Only later did this change. Is it possible that the same thing could occur in music (say with the Melvins) or does the modern commercial manner in which music is popularized prevent it?
My first album that I ever owned was "In Another Land" by Larry Norman. It was given to me on Christmas '79 - I was 4. I was soon given Planet and Garden (the other two parts of the trilogy), by my older bro. Years later when bands like Maiden first, then Sonic Youth, NOMEANSNO, and Fugazi and the like, would be playing constantly on my cd/record player, I always seemed, from time to time, to throw on one of those old Norman albums. The lyrical content that came out might not be your favorite, but his poetic and musical genius that came out was and is undenying. Frank Black did a cother of six-sixty-six on the self-titled "Frank Black and the Catholics".
I can't appropriately relay the real, street level influence Larry Norman and his riveting music/poetry has had on me since 1970-71. I couldn't get over what I was listening to when I stumbled on his first solo album, Upon This Rock. What is this? Who is this guy, I wondered. Why is everyone so scared to play his music? Each album after that pioneered into something new. He was banned and kept on coming. Rock legends for 4 decades sought him out unti he died in February... because he knew something they did not. Simply an amazing individual. Whether in concert or eye-to-eye you got exactly the same guy. I recently discovered some uniquely preserved interviews with him at: http://www.dagsrule.com/stuff/larry/index.html
Gary in Dallas
The bum kon photo is by Patrick barber. Give credit where credit is due....
Thanks, I didn't know who took the photo. I'll add that in -CB
The Bum Kon CD just landed in my mail box this weekend, and I spent a good few hours listening to it and laughing because it was just SO GREAT. Having been a part of the Colorado punk scene in th early '80's I was not only aware of Bum Kon but had seen them play many shows, opening for just about everybody who came through town - the Butthole Surfers, Black Flag, etc. They were a fierce live band.
What is remarkable is that these recordings have not diminished with time. the political angst had a very short shelf life, and you are right, hardcore is as much a product of Reagan as anything. But the humor and sarcasm - the "smirk" as you called it, is still vibrant and kinda great.
p.s. - thanks for adding Pat's name to the photo. He has a flickr account with a bunch of early-mid '80's Colorado hardcore scene pics. http://flickr.com/photos/hollyandpatrick/sets/72157594411726810/
SPIN just did a piece on Larry Norman as well (can't find it on their site). I vaguely remember the very gifted Christian musician Rich Mullins mentioning him, as I was a fan of Christian music in high school. How open-minded that Arena Rock is putting out that anthology.
Zappa : Bizarre & Contradictory ?
Carrie, spend more time on concerted
listening and maybe return to this all
too common & unfortunate attitude towards Franks music in a decade or so.
It's not finger food, and the depth,
artistic growth, stylistic variety,
and fantastically unique voice & vision
are without parallel, and are not all quickly accessed or absorbed. Relistening is key.
Frank was a terribly hardworking man
who never backed down, did no harm,
persued and created beauty, and wanted
what was fair for everyone, everywhere ...... and got his ass good & burned early & often.
My haughty late night recommendation :
go to zappateers.com and checkout both the wonderful European documentaries from the early 70's (there are several) and the posthumous (BBC etc....) profiles. They shed real insight & light
into the man ....... As misunderstood
as any person I can think of.
Sorry for my 'tude, hope I didn't misconstrue your few words .
Randolph