CD Review: Telekinesis
What I don't like about most pop albums is also what I don't like about sugar. I feel elated for a while, but then the inevitable crash arrives and I swear it off for good. And though I always end up coming back for more, I can't say that sugar sustains me. What I like about certain pop albums is when there's something sickly at their core: Once the saccharine high wears off, I can still explore the muck and the sour, which do sustain me, and keep me intrigued.
I didn't listen to the Telekinesis record when it first arrived at my house. Then I heard the song "Coast of Carolina" on a radio show and waited around to see who was responsible for this infectious little beast. When I realized that it was Telekinesis, I pulled the CD out of its resting place and haven't stopped listening to it since; it accompanies me in my car, as I write at my desk and on airplanes. At first, I treated the album like I do a lot of other pop records: as a showcase for one standout song. Consequently, I continued to listen to "Coast of Carolina" as if it were the wunderkind and every other song merely runners-up in some imagined talent show. I approached the rest of the album with skepticism and reserve. And, though I never grew tired of "Coast of Carolina" (and still haven't!), eventually I wanted to know the rest of the story.
And that's how it came to be that Telekinesis' self-titled album is my current favorite. My summer sun long before the light and long days actually get here.
"Coast of Carolina":
Telekinesis is really the work of one man, at least on record, and that man is Michael Lerner. One thing I like about him is that, in addition to being a great singer and songwriter, he's a good enough drummer — quite a fantastic one, really — to know that you can't just give that job up to anyone. So he drums and sings on stage, throwing off both the audience's balance and one's ideas of symmetry and pop, not unlike his songs themselves.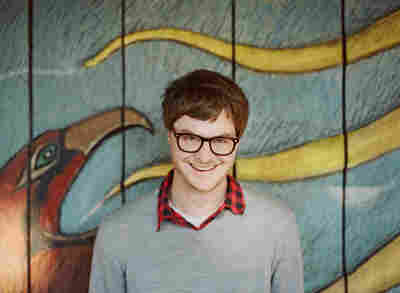 Lerner sings about water, place, time and ephemera, which are all sneaky and slippery topics. So while the impressionistic approach to lyrical content provides fleeting, oblique images, the catchy music is grounding and indelible. If Telekinesis were a dance, it would be the pogo: with the leap into the air — that hint of uncertainty, of possibility, of letting go — being the words, and the driving, perfectly crafted melody (as sturdy as anything) being the feel of your feet as they touch the ground. Sometimes it's nice to have a band provide both the lift-off and the landing.
For tour dates and more information on Telekinesis, click here.
"Great Lakes":