Skip to Main Content
Rainn Wilson and the Strange Case of the Encouraging Flop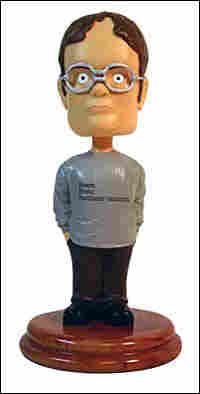 Fans of Rainn Wilson's outstanding work on NBC's The Office did not turn out in droves this weekend to see his first effort as the lead in a big movie: The Rocker made a painfully small $2.8 million in its opening weekend. And as a big fan of his work, I was relieved.
The natural instinct is to hope for success for creative people you admire, and to do otherwise feels less than generous. But ... I've seen this movie. It is not good. It is not what he should be doing. It is a waste of his considerable talent. It's all overcranked and hyper, and it doesn't take advantage of any of his skill at modulating his performance; it's like playing a well-tuned piano with a rubber mallet.
It's happened a few times this summer, that strange feeling of being happy to hear that things did not do well. The Love Guru flopped? Good. Meet Dave? Good. Less of that. Fewer movies headlined by guys making funny faces and talking in silly voices? Good.
Somebody will figure out the right thing to do with the delightful and engaging Rainn Wilson — check out how charming he was
Just seeing the trailer, I thought; "Hmm, does Jack Black know that someone's stole his bit?"
Plus, this should remove temptation for Rainn to leave the Office an embark upon a movies-only career (see also: David Caruso, etc). Not only would that be career suicide, but I also cannot imagine The Office without our beloved Mr. Shrute.
Or the 'A Prairie Home Companion' film...
I have to admit, I wondered what he turned down in order to accept this?! He's much too talented for this garbage.
Kind of like John Krasinski staring in "Licensed to Wed." What a total cheese-fest flop of a film that was. These guys should stick to independent films. Comedy that makes light of the dehumanizing facets of modern life seems to be second nature for these guys. They don't need to star in junk that makes them winsome and popular to a Hollywood audience.
The office is the bomb!!!!!!!!!!!!!!!
I think your right when saying The Rocker was not his best performance.