Date Me! I Read!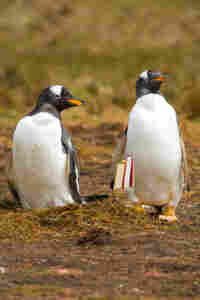 Ever since The New York Times ran a piece in March about dumping prospective suitors because of what they read (or don't read), there's been more talk than usual about the way literary tastes may influence our choice of romantic partners.
Now, inevitably, a publisher has started a dating site where you can search for people to date who read the same books you do.
Discouraged by love? Saddened beyond anyone's ability to console you? PenguinDating is there to help you find that Proust-reading person of your dreams.
The pleasures and perils of PenguinDating, after the jump ...
There to help you, that is, if you live in the UK. But given the proliferation of dating sites, expect the service — a partnership with Match.com — to make its way to our shores as well.
(Take note: The Independent article refers to the site as PenguinDating.com, which is not the correct address. Perhaps the domain was snapped up recently — or perhaps, more intriguingly, it was reserved for a project actually having to do with ... you know, dating penguins.)
But that's beside the point. Which is: Is dating people who read the same things you do really all it's cracked up to be? Is it mostly a way to screen out people who don't read at all? And what book-reading habits really would disqualify someone as a prospect?