Skip to Main Content
Early-Onset Schizophrenia Has Never Been More Adorable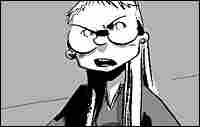 The second issue of I Kill Giants, a seven-issue mini-series written by Joe Kelly and illustrated by JM Ken Niimura, hits stores today.
Why I'm telling you this: Issue #1 off-handedly accomplished something that, I assert, comics can do better than any other form of entertainment: It set up an intriguing tension between its narrative content and its visual style, and it really lived inside that tension.
Erm. Let's see if I can put that another way, without waxing quite so grad-school insufferable.
More direct language, plus a sneak-peek page, after the jump ...
I Kill Giants is told from the point of view of fifth-grader Barbara Thorson, whose Myers-Briggs profile will seem awfully familiar to many a geek: touchy, kind of a loner, obsessed with books and myths.
As the story opens, she's attracting the unwanted attention of both the school psychologist and the school bully. On a not-unrelated note, she's taken to wearing bunny ears to class.
Plus there's the monster that lives upstairs. So, you know. Tough row to hoe, all around.
The tone is of the book is dark, and will likely only get darker as young Barbara's fantasy world of protection spells and elaborate giant-traps rubs up against some of the harder edges of reality. Or at least against the lunchroom.
But then there's the look of the book, which ....
Well, take a gander.
See? Were I pressed to characterize Niimura's stylized, manga-inflected technique, I'd probably start with "Cute as all bloody get-out."
Also: "Winning." Might even add, despite myself: "Awwwww."
And the conflict between the book's dread-infused tone and its cartoony, downright sunny art makes the act of actually reading the thing all the more disquieting, intriguing and memorable. You don't really know how Barbara's going to end up, and you're freshly reminded of that fact with every engrossing, defiantly dissonant panel.
Granted, not all comics spend much time playing in this particular corner of the sandbox. Formal innovation and experimentation are, um, not exactly hallmarks of the superhero genre, for example. Which is probably one big reason I Kill Giants scribe Joe Kelly, who's spent some time chronicling the exploits of Superman, the X-Men and the Justice League of America, decided he needed a little more breathing room.
It's early yet — six more issues to go. Plenty of time for the book to lean too hard into its quirks and collapse. But whether it does or it doesn't, I'm gonna be there to see what happens.
I love the reviews NPR does of comics and graphic novels great and small. I wish you'd develop a weekly or monthly take on comics, both print and web, that make an impact on our society let alone are worth a read. This form bridges gaps in literature and art like nothing else can, there by being something more than just 'funny books for kids.'
I agree with the above statement. Graphic novels are really pushing the boundaries of story telling and I'm all about tuning in to see what there is and where they are going.
Plus, I think as a child I would have benefited from graphic novels because I couldn't focus enough to actually read a book. Graphic novels do a great job of addressing multiple inputs while reading. I guess it would be like turning on the Closed caption TV so someone could read along while listen to the words. I forget the word of what the actual technical stuff.
I really appreciate NPR sloughing off the stuffy overcoat I grew up with and reaching out to younger folks hungry for information both newsworthy and culturally stimulating. This article is a great example, as well as some of the newer programming I'm finding on air.
Thank you NPR for giving voice to a genre that is only looked upon as fantasy. I agree with the comment by Melony Chitwood, you do need to do more reviews on a weekly or monthly release basis. As past graphic novels have proven already, that there is an audience, and its growing. So thank you, and please continue...
Yep, nowadays NPR's got a gratifyingly deep bench of smart types like Laurel Maury and John Ridley spreading the funnybook love. The bad old days of "POW! ZAP! COMICS AREN'T JUST FOR KIDS ANYMORE!" media coverage may at last (he typed hesitantly, trembling with hope) be behind us.
Pleasepleasepleasepleaseplease.
On this blog, we're aiming to make comics a weekly habit. Wednesday's the day new issues arrive in comic shops each week, so that's the sched we'll follow.
If'n you've got suggestions for books to look at -- new or old, ongoing series or graphic novels -- let us know.
Old. I can think of two. The begining issues of Captain Marvel in black and white are visually amazing. And the fact that no one blinks about a newspaper selling orphan who lives in a subway station speaks volumes of the times. The other are the Will Eisner "The Spirit" Just amazing.