Skip to Main Content
Emmy Preview: Outstanding Lead Actor In A Drama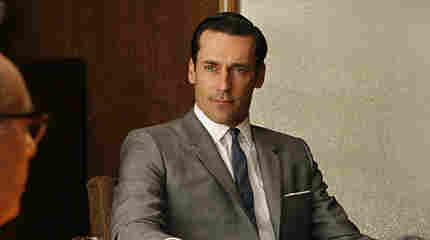 With the Emmy ceremony coming up on Sunday, we'll be taking a look this week at some of the more interesting categories to watch and making a few predictions.
We will try not to spend too much time fretting over classic injustices — including the snubbing of
I think the Emmy snubs of the women of Big Love are much more indefensible, but I think Bill Paxton is extremely good as Bill Hendrickson. The role of a deeply and sincerely religious man is difficult to pull off at any time--but a man who believes it's God's will to have multiple wives? And not have it go into caricature, which, yes, HBO is not immune from? He gives an Emmy-worthy performance almost every single episode.
And he's only better this season, subtly layering in hints of the massive schism that lies underneath the perfect facade. Mad Men is the best show I've seen since Deadwood - and Jon Hamm deserves all the awards he can get. I just wish that some of the women had been nominated - in particular Elizabeth Moss and Christina Hendricks. I was not a fan of January Jones' performance until about half-way through the first season - I found her line-readings very affectless. But then the character (and her performance) got deeper and deeper and now I'm riveted by her.