The Ticketmaster/Live Nation Merger Already Has Powerful Enemies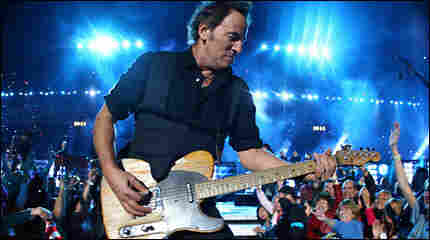 The big news in enormous corporate entities eating each other is that Live Nation and Ticketmaster have announced their plans to merge, meaning that instead of two giant entities in charge of most ticket sales for high-profile live shows, you'll have one.
New York Sen. Charles Schumer has already announced his displeasure with the deal, which he says would "give a giant, new entity unrivaled power over concert-goers and the prices they pay." As a matter of fact, shares of both companies fell after the announcement, apparently because many believe the merger is going to be squelched on antitrust grounds before any such "unrivaled power" can be unleashed.
One notable non-fan of the merger is Bruce Springsteen, who had a high-profile dispute with Ticketmaster last week after ticket buyers were automatically redirected from the Ticketmaster site to a Ticketmaster-owned subsidiary that resells tickets for substantially more than face value.
After that happened, Springsteen issued a letter to his fans expressing outrage about the incident and condemning Ticketmaster's actions — for which they later apologized — but he said something else too.
As Rolling Stone points out, Springsteen also took pains to mention, while the Live Nation/Ticketmaster merger hadn't even been announced yet, that such a merger, and the single ticketing system it would create, would be "the one thing that would make the current ticket situation even worse for the fan than it is now." Ouch.