The 'Top Chef' Finale Awaits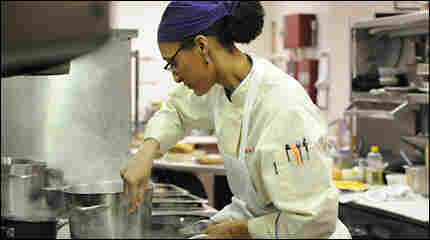 Top Chef is what its Bravo sibling Project Runway was before it got stupider; before it became clear that controversial contestants would be given two or three or even more free passes before being eliminated; before "threw me under the bus" became the most overused phrase on television.
Top Chef is still mostly sane. It dabbles in arguing and unpleasant personalities, but for the most part, it still relies on talented people showing off how talented they are. And tonight, three people with good track records face off in what should be a close contest.
The details, some video love, and a few predictions, after the jump...
The three contestants who remain are Carla, a caterer who favors fresh, simple food but also has classical training; Hosea, an executive chef who brings less of a definitive signature than his opponents, but who has also been good-natured and patient in a contest that can really bring out the worst in people; and Stefan, a chef/caterer raised and trained in various parts of Europe, who makes really good food — usually — but has an alienating, arrogant style that has tended to put off just about everyone he's worked with.
The easiest person to root for in the finale is certainly Carla. Funny but not bumblingly funny, she makes food that almost always looks really good, and her focus tends to be on pleasing the people who are going to eat it, rather than pleasing herself. Stefan is pretty much the opposite: if you don't like the food, he figures you're eating it wrong. He's definitely the most prepared for a possible loss, because he'd easily conclude the judges just didn't know what they were talking about.
As for Hosea, he's performed well on a number of occasions, but he also seems less directed than the other two; there seems to be more workmanlike safe play, but also less inspiration. Carla seems to be the sentimental choice and Stefan the "you may hate him, but he makes good food" choice. Even though it took her a while to get on her feet, I have to bet on Carla — both because I think she's got the momentum and because I really want her to win, and if you can't bet with your heart when it comes to reality television, when can you do it?
Below, a taste of the three chefs who remain, as well as a taste of Fabio, who was eliminated last week after providing about 50 percent of the entertainment value of the entire season, all by himself.