Does Bringing Back 'Chuck' Mean A New Network Model?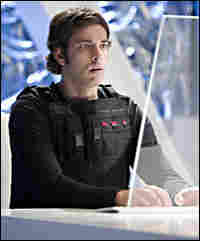 Update: In not at all good news, ABC has apparently scrapped the budget-cutting plan outlined here for Samantha Who?, and has canceled it. Boo.
Networks may be getting almost exclusively bad news about audience erosion and the slow leak of viewers going to cable, but they're managing to hand out some good news to fans.
If you've been following the saga of NBC's Chuck and the endearingly insane fan campaign to get it renewed, you've probably already heard that there have been increasing drumbeats pointing to a renewal. Last night, Entertainment Weekly and some other outlets reported that it's now a done deal.
The order is for 13 episodes rather than what was once the standard 22-episode full season (though more and more shows are on unusual schedules), and the network is cutting the budget (who isn't?). But for people who are attached to this sweet, weird show that is so visibly a labor of love — if any star has ever done anything any more adorable in support of his show than Zachary Levi leading hundreds of fans to Subway to participate in the Save Chuck campaign, I've never seen it — it's a lot better than nothing.
And it looks like it might be the beginning of a larger shift, because it's not just Chuck.
Joss Whedon and the possible end of the hit-churning cycle, after the jump...
Joss Whedon's Dollhouse, which struggled on Friday nights to the point where it was widely assumed that Fox would never renew it, has been picked up, too. So has ABC's Better Off Ted, a smart little oddball comedy that has also struggled in the ratings.
There was even talk late last week of saving the embattled Samantha Who?, a creatively solid show that struggled after being unceremoniously dumped on Thursdays and paired with the atrocious In The Motherhood, by changing it from single-camera to a cheaper multi-camera format.
Follow the trail back to the two-season pickup of Friday Night Lights that was confirmed a while ago (based on the ability to continue NBC's unusual financing deal with DirecTV), and you have a surprising number of shows that, in spite of low ratings, are being given at least an opportunity to return.
Just about all of these pickups and hoped-for pickups come with big budget cuts attached, and that has serious consequences — obviously for actors, writers, and whoever else might wind up out of work, but also for fans, given that you can only cut the budget so far without changing the content.
Nevertheless, it seems like good news. Networks are obviously not going to continue to make the hits they used to in the splintered environment we have now (as we discussed in the first Monkey See post ever). Continuing to budget as if you're hit-hunting just means that most things will be disappointments, and that's how you get the endless churn that happens year after year, where creatively promising shows that are struggling to find audiences are ditched in favor of terrible shows that don't do any better anyway, and that's what makes fans angrier than anything else does.
It doesn't seem likely that anyone is renewing these shows on the assumption that they're going to follow the very unusual path taken by shows like Cheers that started out with bad ratings and wound up as hits. NBC can't possibly believe that Friday Night Lights, a serial drama, is ever going to be a big hit in terms of pulling a mass audience. The same is undoubtedly true of Dollhouse and Chuck. Those networks will certainly hope to improve the ratings, but these are smaller shows, and they're likely being brought back as smaller shows, on the assumption that smaller shows, too, can find ways to make money.
If the current economy has put pressure on networks to think about making shows that don't have to be runaway popular successes in order to justify what's being spent on them, that may be a good thing in the long run. One way to get terrible, dull shows is to take what starts out as an interesting idea and remove all the edges and all the risks in an effort to punch popular tastes directly in the solar plexus and remove anything that could alienate anyone, on the theory that the only way to make money is enormous viewer volume.
It also looks like the Dollhouse decision was influenced by the strong performance of the show in formats other than regular, Nielsen-rated live viewing, including DVR recording and online streaming. As TV critic Maureen Ryan has pointed out, it's just another sign that traditional ratings are losing their position as the sole measure of success and potential profitability, and that's good, too.
It remains to be seen how devastating the budget cuts for these renewed shows will be and how they'll affect quality. But for the time being, there at least seems to be some willingness to explore other ways of making money besides killing everything that isn't for everyone, and that's probably a positive development.