Culturetopia: Must-Listen Arts & Entertainment : Monkey See This week in Culturetopia: Dirty Projectors, Bruno, Woody Allen, and more.
Culturetopia: Must-Listen Arts & Entertainment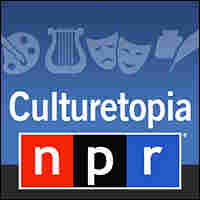 How can you enjoy Culturetopia, NPR's weekly roundup of our best in movies, music, books, television, and the occasional cultural oddity? You can listen right here, or if you are the kind of person who might enjoy having hand-picked radio stories delivered directly to you, you can subscribe to the podcast here.
This week, we look at what's sure to be one of the most talked-about movies of the summer. Sacha Baron Cohen has made a career trampling on delicate sensibilities, and we attempted to put together an exhaustive list of the groups of people who might possibly be offended by his new movie, Bruno.
(And if you missed the annotated trailer when we posted it here last week, be sure to check it out.) (Preview: We think he will offend both cows and Satan. The range is wide.)
Elsewhere in the podcast, you'll learn why the new Woody Allen movie stinks, and hear Pulitzer-prize winning columnist Leonard Pitts Jr. contemplate manhood, through a father's lens.
If the fate of the Elgin Marbles was left to Vanity Fair writer Christopher Hitchens, he'd repatriate them from the British Museum back to Greece. Here, he explains why.
The first White House jazz concert took place in 1962 under Jacqueline Kennedy's auspices; we hear how the current First Lady is encouraging jazz education under the presidential roof. And we've got a review of a breakthrough album by the smart young Brooklyn rock band Dirty Projectors. (A preview: our critic finds it a bit like "Destiny's Child teaming up with the Talking Heads.")