Culturetopia: Must-Listen Arts & Entertainment (Batman Edition)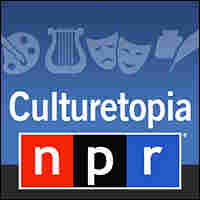 This week on Culturetopia, our weekly roundup of arts stories via podcast, you'll hear Sandman and Coraline author Neil Gaiman on his latest Batman project, Whatever Happened to the Caped Crusader.
And then hear from Emmy award-winning actress Barbara Hale — who played Perry Mason's capable assistant, Della Street — as she describes the only case that Mason lost.
We'll hear Kenneth Turan's review of the latest Harry Potter movie, Harry Potter and the Half Blood Prince, and we've got a great chat with author Aravind Adiga, who talks about his new collection of stories set in a small town in Southern India. Plus NPR's Bob Mondello finds out how Pepsi became known as "Pecsi" in Buenos Aires, Argentina.
And finally, you'll hear hardrocker Andrew W.K., who explains why he thinks the music of Bach — that's Johann Sebastian Bach, not heavy metal singer Sebastian Bach — stands among humankind's greatest accomplishments.