Culturetopia: Must-Listen Arts & Entertainment (Ipanema Edition)
On the Culturetopia podcast, our weekly sampler that excerpts and highlights the very best of NPR's arts and culture reporting, we're pleased to present a couple of extra-fantastic interviews. You can subscribe to the podcast here and get hand-picked arts stories delivered every Wednesday, or you can listen right in this space.
Terry Gross talks with director Judd Apatow, who directed The 40 Year Old Virgin and a new movie, Funny People. Funny People stars Adam Sandler, and Apatow recalls their salad days rooming together when the two were young, hungry, undiscovered...and idiosyncratic when it came to releasing creative urges.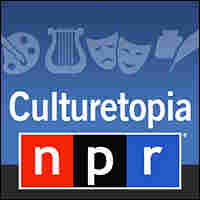 Then you'll hear an unexpected side to Diana Krall in her Morning Edition interview with Steve Inskeep. She's funny, she flubs up and you'll hear a veritable chocolate sundae of a jazz standard — a familiar tune that Krall recasts as "The