Be Like Robert Ludlum: You, Too, Can Create An Absurd Spy Movie Title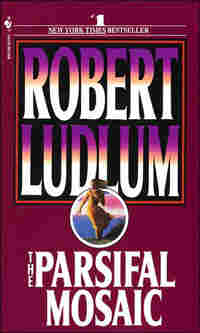 by Andy Carvin
It's been eight years since prolific spy novelist Robert Ludlum passed away, but thanks to Hollywood's penchant for milking some authors until there are no stories left to tell, we're still able to enjoy one of Ludlum's greatest gifts: the art of the absurd spy movie title.
From his very first literary offering, 1971's The Scarlatti Inheritance to The Bancroft Strategy, published posthumously in 2006, Ludlum managed to crank out a new spy novel almost every single year of his professional career. And the vast majority of them had that same three-word formula.
(The only two books of his that broke that structure were The Road to Gandolfo and The Road To Omaha, which apparently must've been gunning for big-screen premieres starring Bob Hope and Bing Crosby.)
Perhaps the best-known Hollywood adaptation of Ludlum's works is the Bourne series — The Bourne Identity, The Bourne Supremacy and the Bourne Ultimatum — starring Matt Damon. But there have been more than half a dozen other Ludlum films and miniseries, all of which utilized the same three-word formula, from The Rhinemann Exchange to The Hades Factor.
And now, director Ron Howard is getting into the mix, with last week's announcement that he'll be at the helm of a film adaptation of Robert Ludlum's — wait for it — The Parsifal Mosaic, perhaps the most deliciously ludicrous of all Ludlum titles.
Even for the entire spy movie genre, it's definitely near the top of the heap: earlier today, I saw documentary filmmaker John Pavlus quip on Twitter, "Ron Howard's next project will wrest honors for 'worst-titled spy movie ever' from Quantum of Solace."
John may indeed be right, but I think we can do even better than that. So here's our challenge to you: come up with the worst spy movie title ever, using Ludlum's three word formula. The only rule we'll require is that the first word is "The" and the third word is a noun; the rest of it is up to you. Personally, my favorite Ludlum formula works like this:
"The" + [Greek mythological hero OR theoretical physicist's surname] + [noun relating some type of situation]
...which gives us some potential titles such as The Heisenberg Incentive, The Szilard Conspiracy, The Achilles Dilemma and The Priapus Conundrum.
Think you can do better? Post your absurd spy movie titles below or tweet with the tag #AbsurdSpyMovies. We'll go through your suggestions and share some of our favorites. And maybe - just maybe - Hollywood will come knocking on your door.
You can follow Andy Carvin on Twitter here to keep up with lots of good stuff from the world of NPR social media. (And, as always, you can follow Monkey See here).